It's a simple fact of ice fishing life – if you let the holes in your ice fishing house freeze up, they need to be re-drilled and cleaned so you can get back to fishing.
The question is: how do we not make a big mess of our ice house when it's time to re-drill the holes?
And the second question is: how do we get this done as fast and efficient as possible so we can get enjoy our time in the wheelhouse?
In a new video for StrikeMaster, we demonstrate the answers to both of those questions.
With the 24v StrikeMaster® electric auger paired with the Lite-Flite Lazer™ Drill, you can see in the instructional video how to quickly and easily re-drill three ice fishing holes within an ice fishing wheelhouse.

If you own a wheelhouse or a permanent ice fishing shack, any StrikeMaster Lithium auger equipped with the StrikeMaster Lite-Flite is a "must-have" offering premium cutting power without the noise and smoke screen.

The Lite-Flite's twin chrome-alloy stainless steel Lazer™ blades, featuring twin serrated blades at the tip, ensure a smooth, clean cut every time – easily shredding through several feet of ice in a hurry.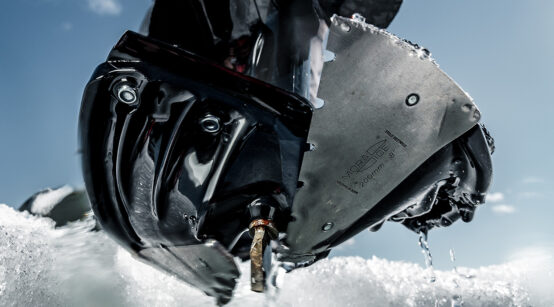 To avoid a big mess of ice shavings, occasionally pause while drilling down, and after you punch through, turn on the reverse switch to push the ice shavings into the water.
Within minutes, the prep is done and you can start lowering bait to unsuspecting crappie, perch, pike and walleye.
No noise. No gas smell. No cloud of fumes. No ice shavings all over the floor of the wheelhouse.
What more could you ask for. Strikemaster has multiple options with the Lite Flite drill that has proven to do easy work in the heart of winter.
StrikeMaster Lithium 24v – Shop Now