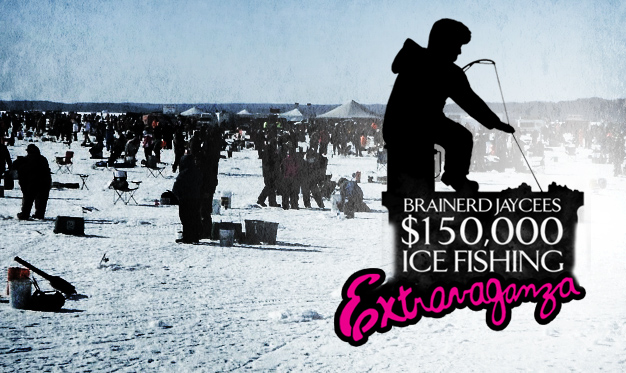 Expect to see myriad MarCum fish finders and hear a cacophony of StrikeMaster augers this Saturday at the Brainerd Jaycees' 23rd Annual $150,000 Ice Fishing Extravaganza on Gull Lake's Hole in the Day Bay here.
Judging from early reports, anglers fishing the event will see a sea of red MarCum softpacks and Strikemaster red powerheads in the hands of the 10,000-plus people expected to attend. ICE FORCE brands MarCum and StrikeMaster are sponsoring the charity tournament, which offers 150 prizes valued at a combined $200,000-plus. Past events have drawn anglers from as far away as Hawaii and Germany.
"The Brainerd Jaycee's event is as much a celebration of the sport of ice fishing as it is a tournament, bringing together first-day-on-the-ice beginners, to seasoned veterans, all in support of a great cause, says StrikeMaster Brand Manager Ray Peterson. "And that's why StrikeMaster has been a proud sponsor 22 of the 23 years the event has been in existence."
Completely volunteer‐run, The Brainerd Jaycees $150,000 Ice Fishing Extravaganza donates all proceeds to area charities. The primary benefactor is Confidence Learning Center, an outdoor recreational facility and camp for people with developmental disabilities.
"The Brainerd Jaycees Extravaganza is one of the largest and best-run ice-fishing events to be found anywhere in the Ice Belt, and ICE FORCE is happy to lend its support, with the return of StrikeMaster and MarCum Tehcnologies as the premiere auger and sonar sponsors," Ice Force Project Manager Lucas Farm. "We appreciate all the time the volunteers put in to raise funds for such worthy beneficiaries."
Contestants can expect the same great event as in years past, Brainerd Jaycees assure, with a large prize list and unique opportunities to win a major prizes at different spots on the leader board. The first-place winner, for example, will drive home in a new pick‐up truck.
Although the contest was postponed in 2012 due to poor ice conditions across Gull Lake, event organizers are optimistic the show will go on as planned this year – 12 to 14 inches of ice has been reported throughout the contest site on Hole in the Day Bay, and area fishing guides have reported no open water or slush at other spots on Gull Lake.
"We are excited that ice conditions and the extended forecast are favorable," said Brainerd Jaycees' Cori Wrobel, "and planning for another successful event is in full swing."
More than 50 Brainerd‐lakes area organizations have received donations in the history of the event, which will most likely tip the scales at $3‐million in charitable donations this year. More information and official updates can be found at www.icefishing.org
Tickets ($45) are available for purchase online at www.icefishing.org, at Brainerd‐area businesses and at all 32 Mills Fleet Farm stores.