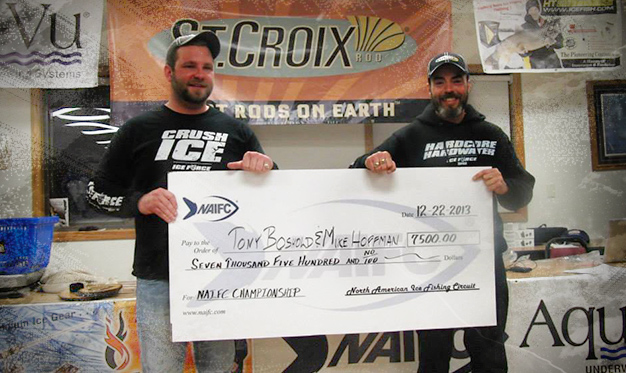 ISLE, MN – A MarCum LX-9 was instrumental in helping ICE FORCE pro Tony Boshold's team find and catch the fish to win the 2013 North American Ice Fishing Circuit Championship on Minnesota's Mille Lacs Lake.
Boshold and team partner Mike Hoffman found fish-holding spots in the tournament's practice period by using the LX-9's underwater-viewing system to find tall green weeds near sandy spots. During the tournament's two competitions days, the LX-9 again proved valuable again.
"We figured out how to catch them on game days, using the LX-9's awesome target separation and 8-degree cone Narrow Band Transducer to pluck fish no one else could see from under a weed canopy," Boshold says.
On the final day of the two-day tournament, Boshold and Hoffman caught almost twice the number of fish as did their closest competitors, with 15. The runner-up team weighed only nine fish. The third-place team weighed only eight.
Boshold and Hoffman, both of Illinois, bested 77 teams, representing 14 states, to win the December 21-22, 2013, tournament, which was hosted by McQuoid's Resort. In claiming The Wood – the name of the NAIFC championship trophy – they won a $7,500 cash purse and individual championship rings valued at $6,500. They also won four new ice-fishing rods for weighing the tournament's biggest fish.
"It was a fantastic weekend," Boshold says.
All's fantastic that ends fantastic. En route to the win, Boshold and Hoffman "overcame a slew of adversity," Boshold says – some of it self-inflicted.
Riding double on a snowmobile en route to their Day 2 perch spot, the duo wiped out on a sharp turn, flipping their Otter Outdoors sled, sending Boshold's StrikeMaster Honda 35cc Lite auger flying through the snowmobile windshield and dumping fish-bucket water, which froze all over everything. "But the StrikeMaster, the Otter and the MarCums all survived," Boshold says. "We were sore, but we never let up!"
Day 1 of the championship was contested on Mille Lac's Wahkon Bay. Anglers were allowed to weigh eight crappies and eight bluegills. Boshold and Hoffman caught eight fish that weighed a combined 3.22 pounds, putting them in third place. Their biggest fish of the day weighed. 0.77 pounds.
Day 2 was contested on Isle Bay. Anglers were allowed to weigh eight perch and eight crappies. Boshold and Hoffman rocketed into first place from third with a 6.43-pound, 15-fish bag that included three pound-plus kicker crappies, the biggest of which weighed 1.05 pounds – the biggest fish of the tournament.
"Our Day 2 total alone was more than second place's total for the entire tournament!" Boshold says. The runner-up team on Day 2 weighed nine fish weighing 3.78 pounds – 3.66 pounds less than Boshold and Hoffman's 15-fish, 9.65-pound bag. The third-place team on Day 2 weighed eight fish weighing only 1.1 pounds. More than 20 teams zeroed on Day 2.
Boshold and Hoffman caught many of their perch by rigging red spikes on the treble hooks of 1/32nd oz. yellow perch-pattern VMC Flash Champ Spoons. "What else is a champ supposed to throw?" quipped Boshold, who won his first of two NAIFC championships in 2005. The champ jigged the Flash Champ on 3-pound-test Sufix Castable Invisiline 100% Fluorocarbon.
"I'd drop the spoon on a free line and it would shoot off to the outside of the 20-degree cone on the LX-9," he explains. "I would lift and drop the spoon back to me a foot or so at a time, reeling up the slack until I either had a fish on, or I could see it center itself back under the cone."
Bumping bottom with the Flash Champ was often integral to his presentation as well.
"I would bounce the bottom a couple times and raise the spoon to about a foot off the bottom and hold it for five seconds and watch for signs of a 'Christmas tree' on the LX-9's display," Boshold explains. "If they didn't come right for it, I would pound the spoon in place a few seconds and then pause. That would make them scream for it, but still take it lightly. If a 'Christmas tree' appeared, I'd stop and hold the spoon above it and just lock and load and wait for them to come get it," he explains further.
While most competitors were able to find and catch perch on Day 2, "the difference was crappies," says NAIFC Tournament Director Jack Baker. Thanks to Mille Lacs' clear water, most teams sight-fished weed-bed crappies with underwater viewing systems. "They all saw fish, but it was the teams that figured out how to get the crappies to bite that won the day," Baker says.
The crappies were in a negative mood following a combination of factors, including heavy snow showers, bright sunshine, a 30-degree temperature drop between the first and second day of competition, plus the pressure of 78 teams moving around on the ice. "It's understandable why the crappies got tight lipped and became the deciding factor," Baker says.
Finding biting crappies required scouting both above and below the ice.
"Deeper snow cover on the ice provides more darkness below and crappies will gravitate to such spots later in the day in response to increased sunlight and fishing pressure," Boshold explains.
Under the ice, Boshold used his LX-9 to investigate thick vegetation and locate crappie-holding spots that he says other competitors overlooked.
"The best spots were over a sand-gravel clearing surrounded by the tallest weeds growing to the surface that were 'unfishable' by the other competitors," he says. "Many were trying to sight fish and with the weed canopy hanging over the best holes, it was a hard gig to be able to see below where the fish were."
Where the weeds were too thick near the bottom to allow for easy travel, tiny perch, bass, pike and walleyes were "waiting to pick off those fish up higher, where they can patrol easier," Boshold explains. "The big panfish set up in a true pecking order on the prime parts of the weed flats." By running their MarCum LX-9 and LX-7 in Narrow Band Transducer mode, Boshold and Hoffman could determine which holes had clear spots in the stalks along the bottom, a key to finding the crappies, he says.
Hoffman found the hot hole, in which the crappies would respond only to a very particular cadence. "They were really tentative – if you rose or lowered it, the crappies were out of there," Boshold says. "You had to let them come to you."
Boshold and Hoffman stayed put once they figured out how to get the crappies to bite. "Commotion doesn't suit crappies," Boshold explains. The big crappies were holding in the tallest, deepest, darkest parts of the weed bed, "just like they're supposed to," Boshold says.
[sub-head]Underwater cameras don't "spook" fish
Although some anglers believe underwater cameras "spook" fish "that's just 'dock talk,'" Boshold says. Using an underwater camera incorrectly, however, is another story
"I've witnessed a whole lot of people not properly using their camera," Boshold says. "They rocket it down the hole and whack bottom and weeds and cause a ruckus before they can even get into focus. Well, panfish don't get big by being sitting ducks – they'll take off with all that racket."
It's better, he says, to carefully and slowly lower a camera and scan the entire water column, especially when targeting panfish in shallow weeds.
"I watch the camera slide down on the sonar side [of the LX-9], so I know when bottom is coming, or where something of interest is marked off to the sides and deserves inspection," he explains. "I can stop the camera at that depth and take a look around." When he eventually reaches bottom with the camera, he gently tests how hard or soft it is.
[bold sub-head]NAIFC competition resumes soon
This January, February and March, the NAIFC will hold qualifying tournaments for the 2014 championship, scheduled to be held in December, again on Mille Lacs. The next four qualifying tournaments will be held on Lake Metigoshe (Bottineau, ND), Hebgen Lake (West Yellowstone, MT), Big Stone Lake (Ortonville, MN) and Chisago Lake (Chisago, MN). The top ten teams from each qualifying tournament will be invited to the 2014 championship.