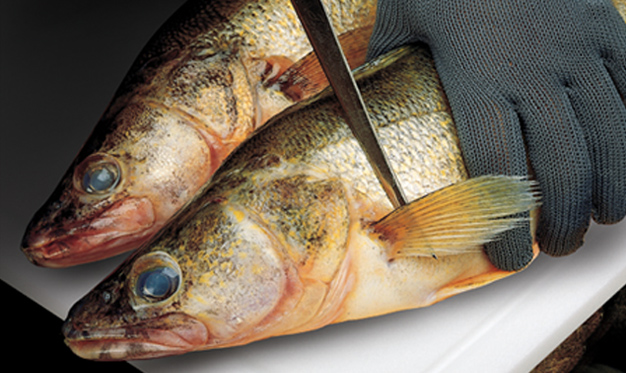 Cleaning a fish is much different than carving a holiday ham. So why are so many electric fillet knives such turkeys?
"Other manufacturers have a blunt blade at the tip, where Rapala has a pointed blade, like a regular fillet knife," explains ICE FORCE pro and Freshwater Fishing Hall of Fame guide Tom Neustrom. "Rapala not only created a better cutting instrument, but it also makes more sense – it's design complements its use. It also works better."
Having relied on Rapala fishing knives for almost 40 years, Neustrom serves as a consultant when Rapala expands its fillet-knife offerings. "I've had a lot to do not only with the design, but with some of the operations of some of the knives," he says.
Go Cordless …
Among the newer-generation Rapala knives Neustrom is excited about is the Lithium Ion Cordless Fillet Knife [Product 'RRFN' not found!], which can run continuously for 80 minutes on just a two-hour charge. "When you're out on the ice or back at camp and they don't have somewhere to plug in an electric knife, the Ion is just unbelievable," he says. "The thing is just a machine."
Lithium Ion batteries provide a consistent speed and torque from fillet to fillet, without reduced power or slowdown. A low "memory effect" allows for more charge/discharge cycles and longer battery life. An advanced air-flow design keeps the Ion's quiet, high-torque motor running smoothly. A relaxed-grip body ensures comfort and security, while 7-inch reciprocating blades make fast work of any filleting task. It comes with a 110V AC battery charger.
700 Fish And Counting …
If all his clients catch limits of walleyes today, Upper Red Lake fishing guide Brad Hawthorne will filet his 700th fish of the season with his Rapala Electric Fillet Knife. But that's no surprise, considering the legendary performance and durability of Rapala fillet knives.
"I've been using a new Rapala electric since Minnesota's fishing opener on Mothers Day and since then, I've cleaned about 670 fish and I'm still on my original set of blades," says the ICE FORCE pro and full-time fishing guide. "I used to go through a knife every few months before I got a Rapala knife."
The perfect tool for every fisherman's home or cabin, the wall-powered, 110V Rapala Electric Fillet Knife [Product 'PGEFAC' not found!] features 6- and 7 ½-inch reciprocating blades and an advanced air-flow design, which keeps its motor running cool and smooth. "Unlike inferior knives, the motor never gets hot," Hawthorne says.
The knife's comfortable, relaxed grip is ergonomically designed to minimize fatigue during even the biggest filleting marathons – something for which a fulltime guide like Hawthorne can vouch. "It's no problem for me to clean dozens of fish a week, hundreds a month."
The Rapala Electric Fillet Knife's 18-foot power cord provides plenty of reach when working around a busy fillet table. "In a fishing-cleaning house at four or five o'clock up here, when there's 20 guys standing around, that extra-long cord is a huge help," Hawthorne says. "When all the outlets are taken up and you can stretch to 18 feet, that helps a lot."
Tried And True Quality
For anglers that demand quality but don't require power, there's no better knife than Rapala's birch-handled classic, the Fish 'N Fillet.
"It's the best fillet knife out there," Neustrom says. "There's none better."
Made by Marttiini, fashioners of premium Rapala fillet knives for more than 50 years, the Fish 'N Fillet [Product 'Fish%20n%20Fillet%20Knives' not found!] is the knife that taught the world to fillet. With more than 40 million sold to date, this knife is used in more fishing camps, on more charter boats and by more fisherman than any other fillet knife in the world.
"I've used these for almost 40 years," Neustrom says. "I've seen a lot of other knives in that time, but there's not a knife available like the Rapala knife. It's the guide's choice."
The Fish N' Fillet's progressively tapered, flexible, full-tang blade takes and holds an ultra-sharp edge. A fine-tooled leather Laplander sheath features a "safety-first" free-swing belt loop that always keeps the sheath and blade clear of the body. With four blade sizes to choose from, there's one just right for every fish-cleaning chore. Each size Fish 'N Fillet comes with an easy-to-use single-stage sharpener to keep the blade razor sharp.
Cutting Boards
Although Rapala fillet knives hold a sharp edge, using them on a Rapala cutting board will help them stay sharper, longer.
"When the blade's not digging into a stainless-steel table, it stays sharper," Hawthorne explains. He would know. He cleans more than a thousand Upper Red Lake fish per year on his 15 ½ by 23 ½-inch  Fillet 'n Carry Board [Product 'FNCB' not found!].
"You buy one those, as long as you don't lose it, you're going to have it for life," he says. "And I think that they get better as you use them."
The Fillet 'n Carry is designed with a unique routed bottom that fits securely on 4-, 5- and 6-gallon buckets. Large enough for any filleting task, it features a large oval hole to pass waste into a bucket below, a knife slot, beverage holder and juice groove to eliminate spillage of liquids.
"It keeps the slime to a minimum," Hawthorne says. "The last thing you want is slime on your fillets, so that's a nice touch.
Made from FDA- and USDA-approved food-grade plastic, Rapala cutting boards clean up easy.
"You throw 'em in the sink, squirt 'em with some soap, rub your hand over 'em a few times and they're clean," Hawthorne says. "And they don't hold in any fish smell."
They're durable too. "They don't warp in heat and they hold up well in the cold," Hawthorne says. "I keep mine in the back of my Polaris Ranger, where it's bouncing around in 40-below-zero temps. I'm going to grab it, I'm going to slam it on the cleaning table, I'm going to cut up about 30, 40 fish tonight and wash it up and put it back. And it will probably be the last one I ever buy."