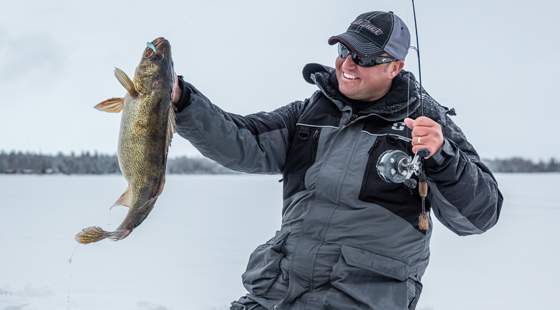 Drop a spoon deep in Mille Lacs and it won't be long before you're reeling up a real nice walleye – and then another, and another. The 'eye bite has been on fire in the famed walleye factory. Gold, silver and perch-pattern spoons have been best during the day, and Glow/UV colors at dawn, dusk and after dark.
"Pretty much everything is holding fish," says Mille Lacs guide Brad Hawthorne, an ICE FORCE pro. "Mud, deep rock and sand all have plenty of walleye on them."
Tony Roach agrees.
"The ice is in great condition and the walleye fishing has been just fantastic," says Roach, another in-demand Mille Lacs guide and ICE FORCE pro.
Gravel, mud flats and north-end breaks in 26 to 32 feet are holding and producing walleye for Hawthorne and his clients. The ice, 11 to 14 inches thick where he's been fishing, is "some of the nicest ice I've seen in years," he says. "Knock on wood!"
Roach recently found several spots where the fish are "cruising pretty frequent," he says. "It's pretty normal for this time of year that you don't have to move quite as much. So if you find an area like this, it's nice just to set up the shelters."
Successful Spoons
Hawthorne's best baits "by far," he says, have been VMC Tingler Spoons and Tumbler Spoons – gold and perch colors by day, Glow UV pink and orange in low light and after dark. And at one point too, he says, VMC Flash Champ Spoons, were "seriously knocking the heck out of fish" after nightfall. Whatever model or color spoon he ties on, he dresses its treble hook with a minnow head.
The bite has been bonkers too for Roach. No sooner does he lay down his StrikeMaster auger after drilling a line of holes, his guide clients are already reeling in walleyes.
"I'm not kidding you, I just set the auger down and it's 'Fish on!'" he says. "That's how it's been every day out here so far. It's been an absolute treat."
A cold front that dropped Mille Lacs-area temps to an average of 6 degrees in the first week of January did cool the bite slightly, Roach says, but it didn't shut it off. "We struggled a little bit on Tuesday [Jan. 3], but Monday was fantastic," he says in an audio fishing report posted to his website on Jan. 5. "Wednesday, Thursday, the bite still seems to be pretty good, especially mornings and evenings. You're getting some fish during the day. Despite 24 below this morning, the fishing still remains pretty good."
Roach is also catching fish on gold, silver and "flashier types of natural color" spoons during the day, and on glow/UV pink and perch patterns in low light and after dark. He too has been tipping his spoons with minnow heads.
Hang 'em High …
Roach, Hawthorne and their clients are catching loads of 2013 year-class walleyes, which now measure from 14 to 18 inches. "A fair amount of 21 to 23 inchers, plus some really big fish" have been coming up too, Roach says
"It's been a blast fishing out here," Roach continues. "They've been hitting it pretty hard. A lot of the fish, when they commit, they're just storming up and drilling it."
His secret? Fishing his spoons higher in the water column.
"I like to keep that bait two, three, even four feet up off the bottom," Roach explains. "The water's really clear right now and especially in deep water during the middle of the day, it pays big dividends. Those fish can see it from afar. If you're fishing in that bottom foot or six inches from the bottom, a lot of times, those fish can't see that."
Truck Traffic
Roach and Hawthorne both forecast that truck traffic will soon commence on Mille Lacs.
"The cool temperatures, I think, pushed us over the edge," Roach says. "The ice looks really good. In every location I've been in, we're seeing 15 to upwards of 18 inches of ice in areas – that's pretty conducive to driving. … Be sure you're calling ahead and asking the resorts what they're allowing for travel."
Warmer daytime temps are expected in the second week of January. Roach likes the forecast – both for next week and the rest of the season. "I think this bite's going to continue throughout the winter," he says.