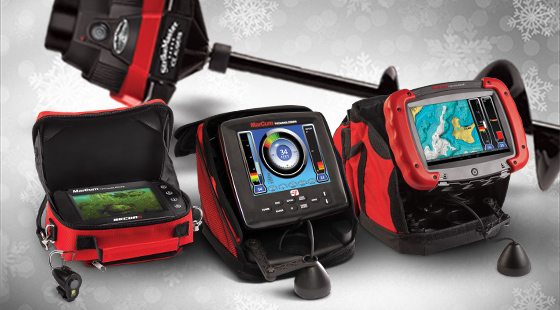 If the big present under the tree had someone else's name on the tag, treat yourself to what you really wanted for Christmas – the newest high-tech fish-catching tools from MarCum® and StrikeMaster®.
What's the latest and greatest? We're making a list … feel free to check it twice.
RT9
Finding and catching fish through the ice has never been easier than with MarCum's revolutionary RT-9, a rugged, touchscreen Android tablet that displays GPS waypoints, lake maps, sonar and underwater video on a single, handheld device.
"You know everyone wanted to see an RT-9 underneath the Christmas tree," says in-demand fishing guide Brad Hawthorne, an ICE FORCE pro. "I don't care if you're 6 or 66, you want to see a toy under the tree when you wake up Christmas morning."
You'll certainly have fun playing with an RT-9, which bundles the features of an LX-9 digital sonar unit into a customizable, GPS-enabled tablet that displays Navionics maps, plays games, music and movies, and run apps on a nine-inch touchscreen.
"The cool factor on it is pretty high," Hawthorne says. "It's off the charts."
The RT-9's touchscreen features pinch-to-zoom and scroll. Built into the tablet are a DVR, 8GB of digital storage, an internal battery, speakers, an earphone jack and two micro-SD slots — one to run 2D or 3D Navionics map programs, and another for video-capture storage or entertainment data. Wheelhouse anglers can use an HDMI cable to link the RT-9 to a flat-screen TV.
RT stands for "Ruggedized Tablet." Boasting sturdy bumpers and an environmental rating that accounts for water, dust and shock, the RT-9 is splash-proof, snow-proof and drop-proof. Specially designed gaskets seal all inputs and outputs.
"It's purpose-built for ice-fishing," Hawthorne says. "And because everyone fishes differently, the RT-9 was designed to meet every angler's needs."
Three data ports connect the tablet to interchangeable sonar and camera modules. You can connect two ice sonar modules and one camera module, or two camera modules and one sonar module.
Paired with a Navionics map chip, the RT-9 will do all the things that you're used to in handheld or open-water GPS-enabled sonar units, including color shading for depth zones, you-are-here cursor, waypoints, routes, tracks and more. You can display your map on the full screen or on one side of the screen, with your sonar or underwater camera display on the other side.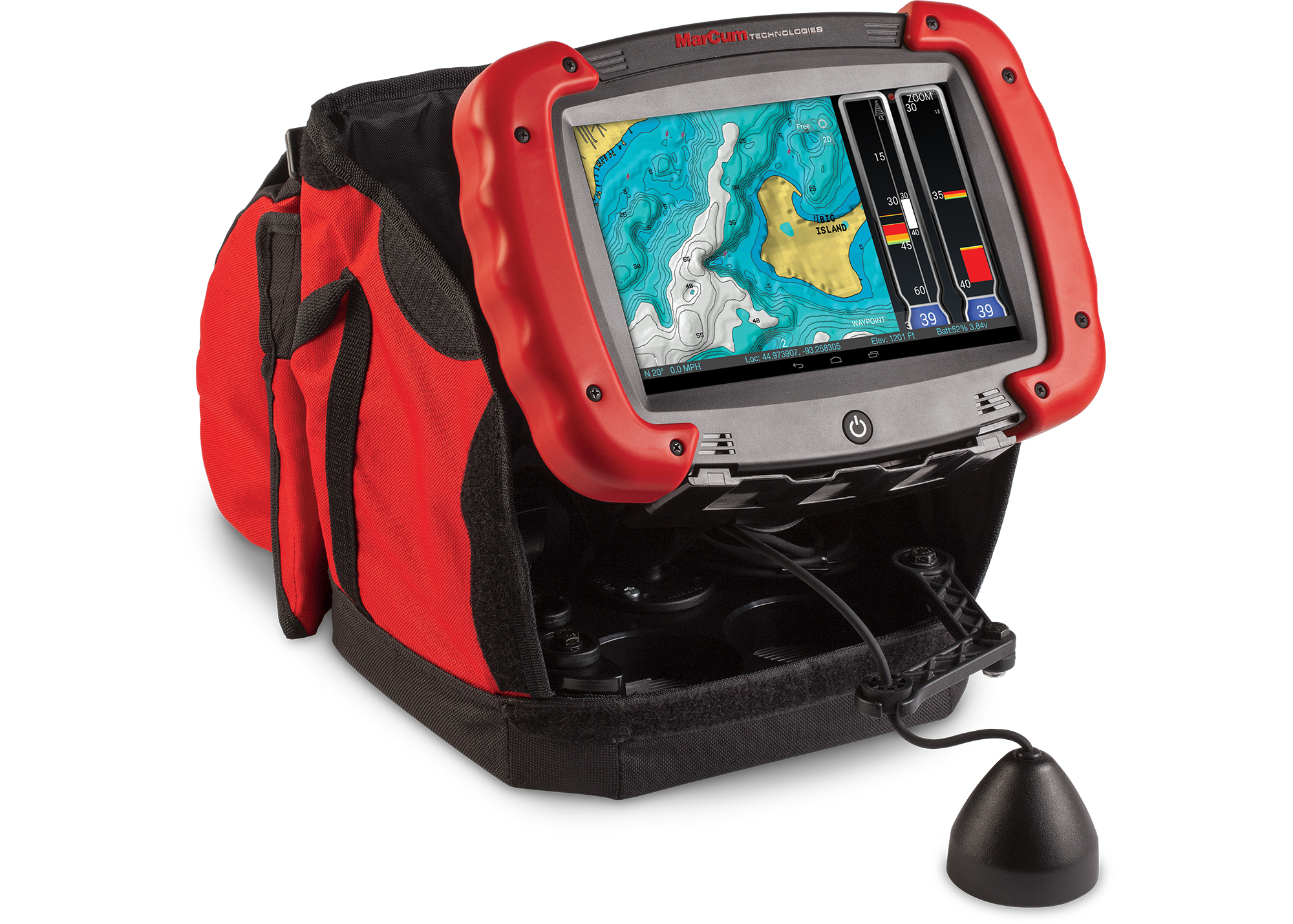 Recon 5 & Recon 5+
The power of underwater viewing is now pocketsize, with MarCum's new Recon 5 units. Lithium-battery-powered systems with smartphone-sized screens, the Recon 5 and Recon 5 Plus include cameras that feature a CMOS sensor, darkwater LED and infrared lighting, and color-kill technology. The LCD monitor for each features a 5-inch widescreen flat-panel screen with a 16:9 aspect ratio.
"You're getting features that are in $600 to $700 cameras in a camera that fits into your pocket," Hawthorne says.
The Recon 5's on-screen display shows battery status. The Recon 5 Plus adds depth of camera, direction of view and water temperature. Both models allow brightness, contrast and sharpness display adjustments.
Additional features of the Recon 5 are a screen cover/sunshield, charger cable, soft camera pack and 1-year warranty. The Recon 5 Plus comes with all those, as well as a built-in DVR and the ability to make a screen shot, record to an external Micro-SD Card (up to 32GB), play back video and delete footage.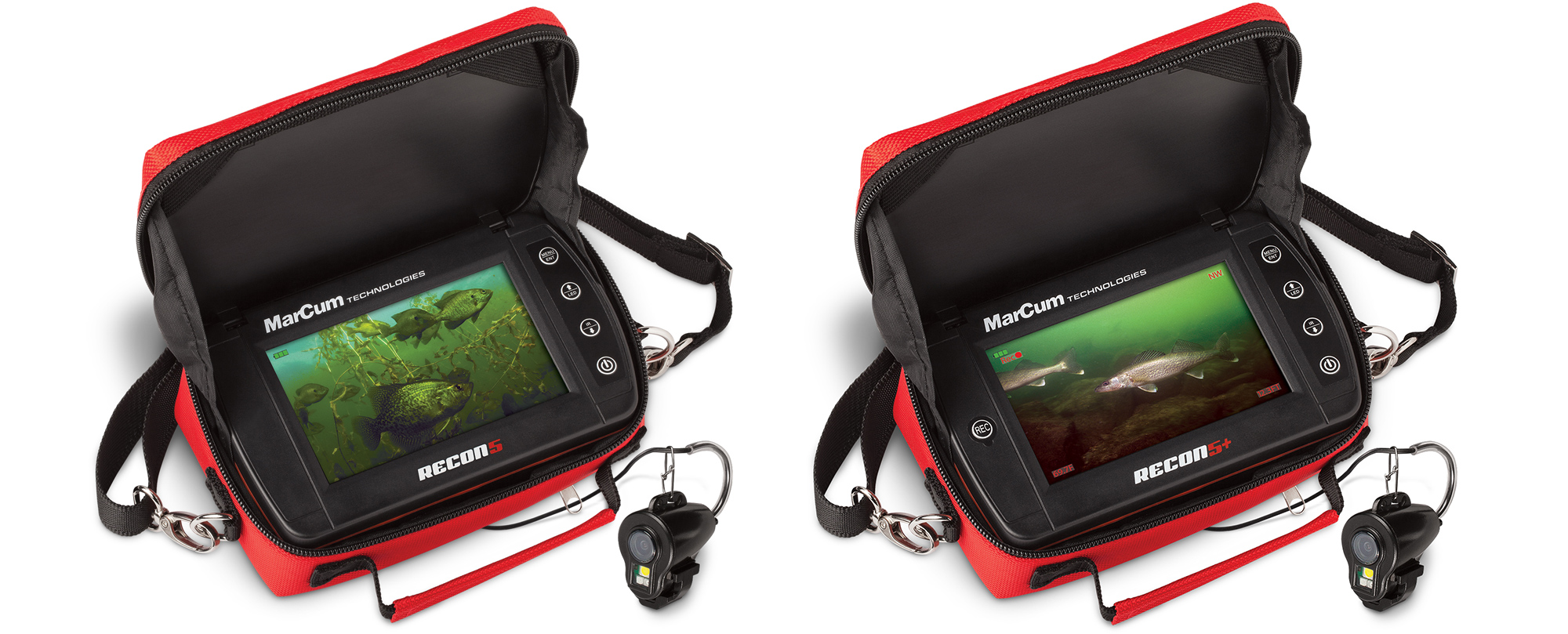 Lithium Lazer & Chipper
StrikeMaster's Lithium Lazer auger can cut as many as 56 holes through two feet of ice on a single charge.
"Providing clean, quick, efficient power, the Lithium Lazer is the perfect choice for permanent houses, wheeled houses and general use," says Tony Roach, an in-demand Minnesota guide and ICE FORCE pro. "You're able to cut quickly through thick ice and crusty holes with zero emissions."
A removable 50-volt Lithium Ion battery gives the Lithium Lazer consistent speed and torque without reduced power or slow-down. Updated circuitry provides dependable, quiet cutting power.
Built on a proven American-made 25:1 transmission with heat-treated steel gears and lightweight polymer gear casting, the Lithium Lazer delivers maximum efficiency in a light-weight package.
Lithium Lazer augers are available now with 10-inch and 8-inch blades, affording anglers two additional inches of room to pull up fish from below. Both drill diameters are available with twin Swedish-made Mora stainless steel Lazer blades or a new Boron steel chipper blade. Fitted with 8-inch Lazer or chipper blades, the auger weighs only 24 pounds. With either style 10-inch blades, it weighs 27 pounds.


MarCum Digital Sonar
Each of MarCum's digital sonar units – the LX-6s, LX-7 and LX-9 – give anglers multiple display options, including water-column vertical, vertical zoom, flasher-dial and traditional horizontal LCD graph.
"Beyond all the amazing features, they give you the ability to customize and hone your ice-fishing sonar the way you want it," Hawthorne says.
The LX-6s and the LX-7 feature 3/4-inch and 1/2-inch target separation, respectively.
"That really lets you read a fish's attitude and commitment level," Hawthorne explains. "If you have solid red marks underneath you, you have active fish that will come in with, say, an aggressive spoon technique.
"But if you start getting faint marks that just aren't coming in to right below you, it you tells you to slow down," Hawthorne continues. "That might mean a heavy jig and getting a little more subtle, or maybe just a tip-up."
The LX-6s, LX-7 and LX-9 each feature selectable 5-, 10-, 20- and 40-foot zoom windows, Infinitely Adjustable Zoom, Bottom Lock Zoom, a patented 12-level interference-rejection system, a dual-beam transducer (switch between 8-degree and 20-degree cone angles for deep- and shallow-water use) and 4800-watts PtP.
"And power matters," Hawthorne explains. "Fish can easily elude detection by the low wattage pushed by other brands."
MarCum's top-of-the-line digital unit, the LX-9, offers additional benefits, especially for anglers who fish out of permanent, hard-side ice houses. That's because it can simultaneously display live underwater footage from an underwater camera and sonar returns and output that to your ice-house's big-screen TV. A built-in DVR provides screen recording and instant on-screen playback. It can record also to a separate SD card, or via video-out.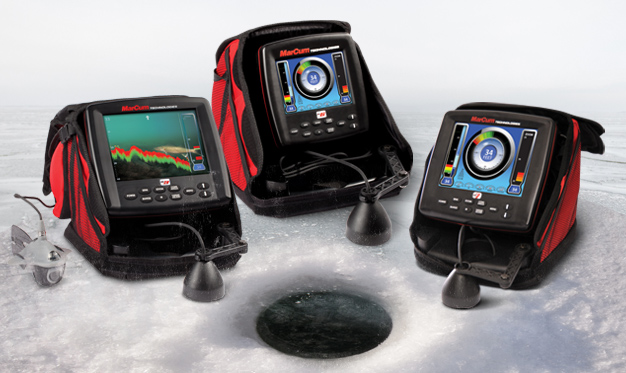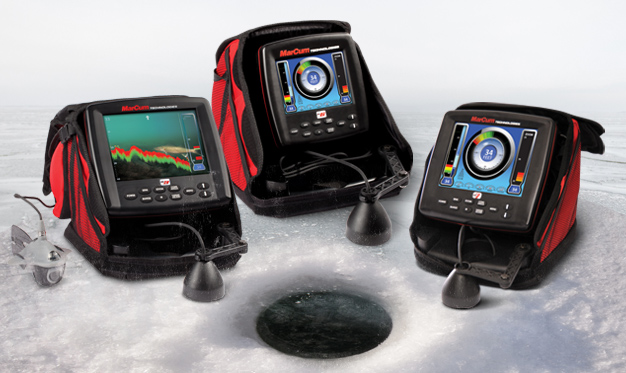 See RT9
See Recon 5
See Recon 5+
See LX-6
See LX-7
See LX-9
See Lithium Lazer®
See Lithium Chipper