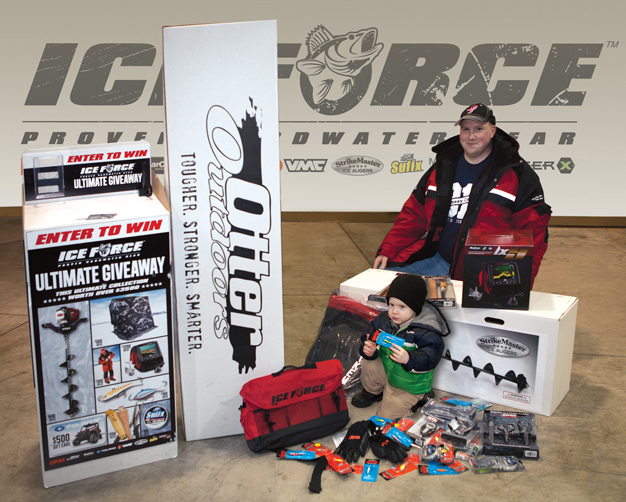 Little did Brent Atchison know when he saw the $3,500 ICE FORCE Ultimate Giveaway sweepstakes on the StrikeMaster website, a few weeks later he would be walking away with the loot.
And what loot it is! A MarCum LX-9 combination sonar/underwater camera unit; a Honda-powered StrikeMaster HL-8 auger; an Otter Outdoors Wild T600 portable ice house; a pair of StrikeMaster Polar Bibs; a StrikeMaster Polar Parka; a $500 Polaris giftcard; a $100-value package of Rapala Jigging Raps and Jigging Shad Raps; $100 worth of Sufix ice fishing line; and a $200-value collection of Rapala tools, knives and accessories.
"It's definitely not something I would have been able to afford, and me and the kids can't wait to use it all," says Atchison, 28, of White Bear Lake, Minnesota. "All of the Rapala lures, Sufix line and the accessories are amazing."
Atchison couldn't stress enough how much fun he and his children, ages 2 and 4, were going to have with all of the new toys.
"They come out with me ice fishing in my permanent house, and having the MarCum LX-9 is going to be great for entertaining and, hopefully, getting them involved in fishing for life," he says.
Atchison has owned an older-model StrikeMaster for years, but says his new Honda-powered StrikeMaster  is already his hands-down favorite!
Atchison's name was selected randomly from thousands of entries.
"We couldn't have picked a better winner!" says ICE FORCE Project Manager Lucas Farm. "On the behalf of ICE FORCE, we congratulate Brent Atchison on winning the 2013 ICE FORCE Ultimate Giveaway!"