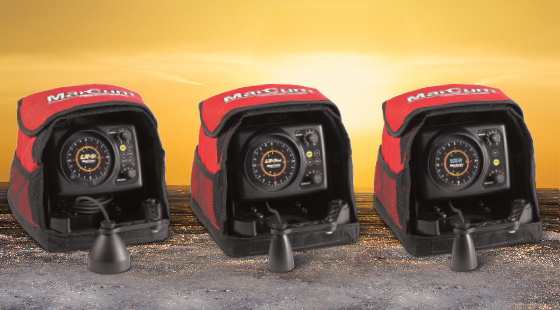 What great timing — it's almost cold enough to ice fish and you've got Christmas-card cash burning a hole in your pocket! Parlay that yuletide good fortune into success on the ice with the addition of one or more of the following ICE FORCE® tools to your winter-fishing arsenal.
MarCum iSeries Flashers
In addition to the superior target separation they've long delivered, MarCum®'s mechanical iSeries flashers have been updated with larger displays that prevent snow build-up and increase viewing angles, allowing easy sight lines from all sides. The venerable LX-5i, LX-3tci and VX-1i models all include these enhancements.
"It's legendary performance improved," says ICE FORCE® pro Tony Roach. "True to form, MarCum's still improving angler experience in ways you'll appreciate both in a shelter and on open ice."
The most advanced flasher-sonar ever built, the Marcum LX-5i offers dazzlingly bright and crisp color images of the bottom, vegetation, fish, baitfish and your lure, all displayed with the highest resolution available.
Featuring 1.5-inch target separation in default mode and 1-inch target separation in Zoom mode, the LX-3tci excels at identifying both bottom-hugging walleyes and schools of suspended crappies.
MarCum's entry-level flasher, the VX-1i offers performance, pricing and features that the competition can't match, including 5-foot bottom lock, 2-inch target separation, 3-Color blended LEDs, a 20-degree transducer and a patented interference-rejection system.
All MarCum flashers include padded softpacks, rechargeable 12-volt batteries and 3-stage automatic battery chargers.
StrikeMaster® Honda 35cc Lite
Powered by a state-of-the-art, emission-certified Honda four-stroke OHC engine, StrikeMaster's Honda 35cc Lite offers quick and effortless cutting through even the thickest of ice.
"Anglers will love the Honda Lite's speed and unprecedented power," says ice-trolling guru Tony Roach, an in-demand Minnesota fishing guide. "It will take them from crushing ice to reeling in the next catch in minutes."
Fitted with a heavy-duty 8-inch drill with twin stainless steel Mora Ice Lazer blades, a Honda 35cc Lite weighs only 23 pounds. That's a big deal when you drills hundreds of holes a day.
"A guy with a heavy auger is probably less likely to drill as many as holes as he needs to in order to keep up with a school of biting fish," Roach says. "With the Honda Lite, you're not going to talk yourself out of moving with the fish because you don't want to carry your auger around anymore."
Fitted with a 10-inch drill, a Honda 35cc Lite weighs only 26 pounds, making it ice-fishing's lightest 10-inch auger.
"From its razor sharp blades and tough-as-nails 10-inch drill, to its fantastic engine, StrikeMaster's latest innovation is a must-have for serious hard-water die-hards," Roach says.

StrikeMaster® Lazer Mag
Want the ideal combination of weight, cutting speed and value? StrikeMaster's 2.5-horsepower Lazer Mag is a hole-punching powerhouse to fit the bill!
Boasting a 42cc German-engineered Solo engine, the Lazer Mag delivers first-pull reliability with ice-shredding torque and horsepower. It's light too — fitted with an 8-inch blade, it weighs in at a scant 26 pounds.
Need a larger hole? Opt for a 10 -inch blade and you won't surrender cutting speed.
Both the 8- and 10-inch drills feature twin, stainless steel Lazer blades made by Mora ICE of Sweden.  No blades are sharper.  No auger cuts faster, with less effort.

StrikeMaster® Lithium Lazer
Featuring updated circuitry for this season, StrikeMaster's Lithium Lazer auger can cut 56 holes through two feet of ice on a single charge. Other Lithium Ion augers boast only 40 holes.
Powered by a removable 50-volt Lithium Ion battery with a newly reinforced switch, the Lithium Lazer provides consistent speed and torque from hole to hole without reduced power or slow-down from a waning battery.
"The Lithium Lazer is the perfect choice for permanent houses, wheeled fish houses and general use," says in-demand ice-fishing guide Tony Roach, an ICE FORCE pro-staffer. "You're able to quickly get through thick ice and crusty holes with zero emissions."
A full-size auger, the Lithium Lazer doesn't require an extension or hunching over for every-day operation. Fitted with twin 8-inch, Swedish-made Mora™ stainless steel Lazer blades, it weighs in at only 24 pounds.