Serious anglers throughout North America have come to rely on StrikeMaster® for the most innovative, durable, high-performance ice drills and augers and accessories.
Now, StrikeMaster® is expanding its innovative ideas and detail to quality to high-performance ice fishing outerwear. Introducing the StrikeMaster Surface Suit and the StrikeMaster Battle Suit.
"StrikeMaster's reputation for quality construction and attention to detail can be found from head to toe in its new ice fishing jackets and bibs," says ICE FORCE Pro Nick Cekalla, a Mille Lacs-Brainerd Lakes Area fishing guide.
Both suits (combination jacket and bibs) offer unparalleled comfort, warmth, ease of movement and durability – everything hardcore hardwater anglers need to succeed. Because the fact is, if you're thinking about your ice fishing apparel while you're out trying to hammer walleye, jumbo perch, lake trout, crappie or pike, you're not thinking about the fishing.
StrikeMaster® Surface Jacket and Bibs
StrikeMaster's new Surface Suit bundles all the warmth, comfort and safety features of the original into two stylish new color patterns perfect for trendsetting, hole-hopping ice anglers. Completely waterproof and breathable, the newly re-styled Surface Jacket and Surface Bibs will together afford two hours of floatation time to an angler who falls through the ice.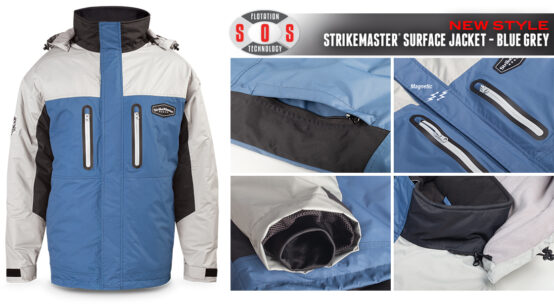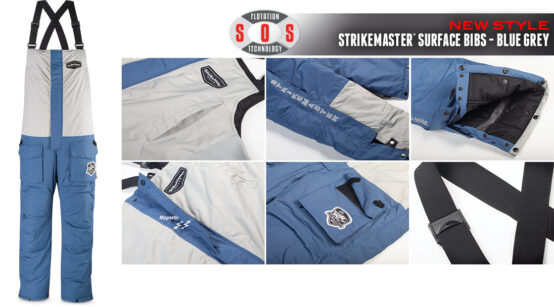 Boasting a comfortable cut that affords anglers both unrestricted freedom of movement and unsurpassed warmth, the Surface Jacket features fleece-lined hand-warming pockets, internal zip pockets for your wallet and cell phone, and a removable, insulated hood. Angler-friendly features in the Surface Bibs include zip-to-hip side zippers with magnetic flaps, accessory-attachment D-Rings, multiple layers of E.P.F. knee padding, and adjustable cuff hems.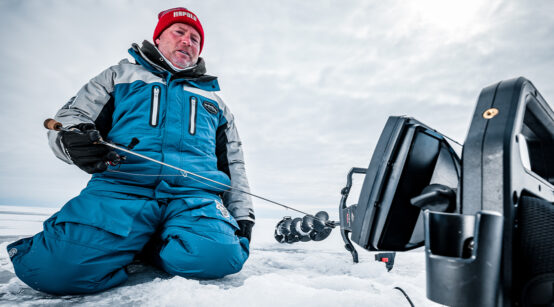 "The new StrikeMaster Surface Suit is the ultimate outerwear for deep-freeze ice-fishing adventures," says ICE FORCE Pro Cekalla. "And while I'll always advocate for following all the requisite safety precautions for first ice, river ice, big-water ice, etc. – which all require some special care – you can be confident your Surface Suit's 'SOS' tech will keep you afloat for assistance, should you break through despite your best efforts stay on safe ice."
StrikeMaster's innovative SOS technology – "Stay on Surface"– provides as many as two hours of floatation after falling through thin ice. That said, Surface Suits are not Coast Guard Approved personal floatation devices, and StrikeMaster recommends that ice-anglers follow safety protocols that would enable them to enlist aid as quickly as possible should they break through the ice.
Despite being completely waterproof, both the Surface Jacket and Surface Bibs are also breathable, each offering a comfortable fit, incredible warmth and all the features serious ice anglers require.
Both the Surface Jacket and Surface Bibs are built with a 100% nylon oxford fabric shell, 100% nylon Taslon fabric and a 100% Trycot polyester interior lining. They're each filled with 120 grams of padded insulation and the equivalent of 40 grams of EPE floatation foam. The jacket and bib each feature premium YKK zippers shielded by magnetic storm flaps.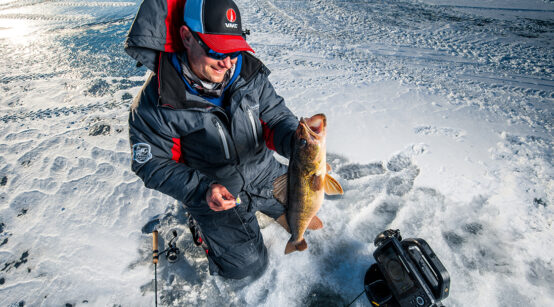 StrikeMaster® Battle Jacket and Bibs
Go toe to toe with whatever winter brings with the new StrikeMaster® Battle Jacket and Bibs. Designed by ice anglers for ice anglers, the Battle Suit offers comfort, warmth and ease of movement, which allows serious anglers to stay on the (hard) water longer. Wear the hottest brand on the ice.
The StrikeMaster Battle Jacket and Bibs are engineered with the features that serious ice anglers demand, including fleece-lined, hand-warming pockets; an inside zip pocket for your cell phone and wallet; premium YKK zippers; a magnetic flap on the main zipper; a removable hood; and D-rings on pockets.
Built for lasting warmth, comfort and long-lasting durability, the Battle Jacket and Bibs are made with 100% nylon oxford fabric, 100% polyester/PU coating, a 100% polyester tricot lining, and 160g padded insulation. Waterproof (8000mm) and breathable (8000mm) fabric ensures you'll stay dry.
So, this winter, stop being cold and miserable – switch to the StrikeMaster Battle Suit and get ready to fight more walleye, lake trout, pike and crappies.