You've got water to cover. Lots of icy cold hard stuff. Shorter days mean you don't have time to mess around. You need an auger you can depend on. Drill hard and fast. Get the job done, now. Get the line in the hole. Fish on.
Auger Anthem: Defining Peak Performance, a new video by StrikeMaster®, takes the viewer inside the world of hardcore ice anglers and the value they place on high-performance equipment. Because you can't fish ice without drilling a hole, success on hard water starts with an ice auger that allows anglers to get to fish lighter, faster, and longer.

StrikeMaster® ice augers set the standard by which all other power augers are measured. StrikeMaster® power augers represent the pinnacle in ice cutting technology. Hole after hole. Fish after fish. StrikeMaster® augers keep ice anglers in the game, from the first days of ice-in to water-soaked ice at the end of the season.
It's this dedication to fishing through the ice that keeps StrikeMaster at the forefront of ice fishing technology. As our world goes all-electric, StrikeMaster® is there, developing powerful new augers that have the endurance to cut hole after hole after hole.
For example, the StrikeMaster® Lithium 40v ice auger combines decades of ice auger experience with leading-edge design and power engineering. This auger will muscle through the ice, hole after hole. Its 40-volt, 5-amp hour lithium-ion battery powers an electric DC brushless motor for reliable, constant speed and torque. A planetary gear system provides lightweight durability and high-power density for unmatched performance. Innovative high-performance cutting via the legendary StrikeMaster® Lazer™ blades provides the fastest cutting edge, period.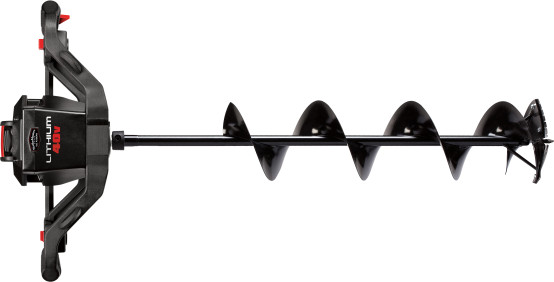 The New StrikeMaster® Lithium 24v ice auger offers more power, more holes and stable ergonomic handling in the lightest, most compact peak performer in it's class.

The new lightweight Lite-Flite Lazer™ Drill Unit is designed to be used with any professional quality 18v (or higher) brushless hand-held electric 1/2″ chuck cordless driver or StrikeMaster® ice auger power head. The full length segmented flight is molded with a proprietary blend of synthetic resins. Heavy-duty steel hex shaft and reinforced "T" connection to carriage for strength. The carriage is formed from exclusively engineered compounds for unbeatable durability allowing you to drill every hole with confidence. Power Point keeps the drill unit in place while drilling. The twin chrome-alloy stainless steel Lazer™ blades ensure a smooth, clean cut every time.

And new for this ice fishing season, StrikeMaster® created the StrikeMaster® Pro Lithium 40-volt Lite electric ice auger – the ultimate auger for on-the-move, drill-and-drop ice-trollers. Building on its battery technology expertise, StrikeMaster® upgraded and streamlined its vaunted Lithium 40V electric auger with a new, higher-capacity 6-amp battery that with a single charge can punch as many as 115 8-inch holes through 16 inches of ice in repeated tests. And tipping the scales at a mere 21 pounds, it cuts significant weight by making a Lite-Flite Lazer Drill Unit standard equipment.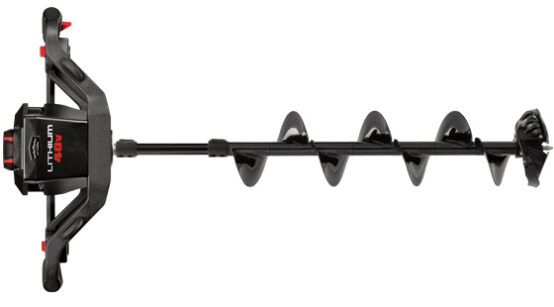 See StrikcMaster® Electric Ice Augers
See StrikeMaster® Lithium 40v Ice Auger
See StrikeMaster® Lithium 24v Ice Auger
See StrikeMaster® Lite-Flite Lazer™ Drill
See StrikeMaster® Pro Lithium 40v Lite Ice Auger