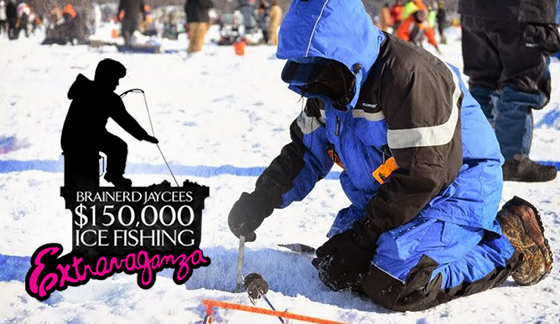 When NBC Nightly News' Harry Smith reported on the hearty souls that participate each year in the Brainerd Jaycees $150,000 Ice Fishing Extravaganza, he could well have been talking about Minnesota-based StrikeMaster & MarCum, which will again sponsor the famous fundraiser:
"Minnesotans once again proved to us that we need not be casualties of the cold, but conquerors," reported the veteran journalist last year from Brainerd.
"Only the few, the proud and the brave prefer ice fishing," added Nightly News anchor Brian Williams. "In Minnesota, this time of year, they do love it."
Indeed.
More than 10,000 anglers are again expected to compete in the Brainerd Jaycees' annual fund-raising tournament, which will be held this year from noon to 3 p.m. on January 24 on Gull Lake's Hole in the Day Bay.
"When it comes to winter, Minnesotans pretty much think the rest of us are wimps," Harry Smith reported to the nation from Brainerd last year.
Other brave souls, however, join in on northern Minnesota's frozen festivities. Throughout the history of the event, contestants from as far away as India, Germany, and Hawaii have participated. Also reporting from the event last year, CBS News interviewed an Australian enjoying a g'day at the Extravaganza.
"As far as I can gather, it's Minnesotan," the Aussie answered, having been asked why 10,000-plus people would willingly spend an entire day outdoors in 2-degree temperatures. "And if you tell anyone 'It's Minnesotan,' they understand what you're talking about."
You betcha!
Completely volunteer run, The Brainerd Jaycees $150,000 Ice Fishing Extravaganza donates all proceeds to deserving entities. More than 50 organizations in the Brainerd Lakes area have received donations in the history of the event, which has raised almost $3 million in charitable donations. The primary beneficiary is Camp Confidence Learning Center, an outdoor recreational facility and camp for individuals with developmental disabilities.
Almost 20,000 holes are pre-drilled for competing anglers to choose from — all punched with StrikeMaster augers. It takes three days to set up the event site, which becomes the second largest city in Crow Wing County during the event.
Contestants vie for one of 150 prizes with a combined value of more than $200,000. First place wins a GMC or Ford pick-up truck. Other prizes include hard-side fish houses and ATVs. No prize is worth less than $250. Official information, tickets, and event updates can be found at www.icefishing.org