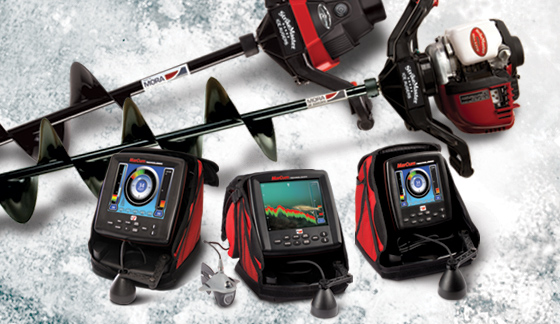 Santa didn't get your list? Spouse didn't get your hints? If you didn't find what you really wanted under the tree, make the most of your Christmas-card cash and gift cards and add to your ice-fishing arsenal with a new StrikeMaster auger or MarCum digital fish-finder.
StrikeMaster® Lithium Lazer Auger
StrikeMaster's new Lithium Lazer auger can cut 56 holes through two feet of ice on a single charge. Other Lithium Ion augers boast only 40 holes.
Powered by a removable 50-volt Lithium Ion battery, the Lithium Lazer provides consistent speed and torque from hole to hole without reduced power or slow-down from waning battery.
"The Lithium Lazer is the perfect choice for permanent houses, wheeled fish houses and general use," says in-demand ice-fishing guide Tony Roach, an ICE FORCE pro-staffer. "You're able to quickly get through thick ice and crusty holes with zero emissions."
A full-size auger (unlike some other Ion-battery drills) the Lithium Lazer doesn't require an extension or hunching over for every-day operation. Fitted with twin 8-inch, Swedish-made Mora™ stainless steel Lazer blades, it weighs in at only 24 pounds.
Featuring an on-board indicator for easy battery-level checks, the Lithium Lazer comes with a fast-charging, two-hour, two-amp battery charger. "So you can be back up and running in two hours on a completely dead battery," Roach explains.
StrikeMaster® Honda™ 35cc Lite
StrikeMaster designed its Honda 35cc Lite with the goal of setting a new standard in ice auger quality and functionality. Mission accomplished, Roach says.
"Anglers will love the Honda Lite's speed and unprecedented power," he says. "It will take them from crushing ice to reeling in the next catch in minutes."
Powered by a state-of-the-art, emission-certified Honda four-stroke OHC engine, the Honda 35cc Lite offers quick and effortless cutting through even the thickest of ice. Featuring a heavy-duty 8-inch drill with twin stainless steel Mora Ice Lazer blades, it weighs only 23 pounds.
"A guy with a heavy auger is probably less likely to drill as many as holes as he needs to keep up with a school of biters," Roach says. "With the Honda Lite, you're not going to talk yourself out of moving with the fish because you don't to carry your auger around any more."
MarCum® LX-6, LX-7 & LX-9 Digital Flashers
There's no better way to enter ice-fishing's digital age than with a MarCum LX6, which features three-quarter–of–an–inch target separation.
Dynamic screen views include water column vertical display, vertical zoom, flasher dial and traditional widescreen graph, along with endless combinations. The LX-6's customizable on -screen dashboard displays digital depth, battery voltage, and interference rejection – all right at your finger tips!
Built with an optimum blend of sonar DNA from MarCum's LX Flasher and Digital Fish Finding technologies, MarCum's LX-7 has forever transformed the game of finding fish under frozen water.
Featuring a Multifaceted Sonar Display, the LX-7 gives anglers fully customize window views, including water-column vertical, vertical zoom, flasher-dial and traditional horizontal LCD graph displays. A panoramic 8-inch LCD display features four vividly rich color palettes.
With MarCum's revolutionary LX-9, anglers can view fish, structure and cover through a diversity of underwater eyes – digital sonar and underwater video combined into a single high-tech portable device. A built-in DVR provides screen recording and instant on-screen playback. It can record also to a separate SD card, or via video-out.
Merging the most advanced ice fishing sonar on the market with the highest-resolution underwater camera, the LX-9 can display on its 8-inch flat panel color LCD live underwater video and multiple user-defined sonar displays – or both simultaneously. And with its built in DVR, you can immediately capture, upload or review underwater events
A customizable "dashboard" reveals digital depth, battery voltage, range, sensitivity, and interference rejection, as well as on -camera-screen displays of water temp, camera depth, and relative camera direction. Advanced light sensitive optics deliver the sharpest, cleanest color picture available, while Darkwater LED Light Technology illuminates the viewing area in dark and dirty water.
The LX-9 comes with MarCum's exclusive Auto Camera Panner for the full underwater video viewing experience – 360 degrees of fishiness in the palm of your hand.
LX-6, LX-7 and LX-9's all feature industry-exclusive Sonar Footprint Technology, Infinitely Adjustable Zoom and Bottom Lock Zoom and a 12-level Interference Rejection system.
Sonar Footprint Technology uses either 8-degree or 20-degree transducer cone angles to display your area of bottom coverage at any depth. MarCum's Patented 12-level interference rejection system knocks out competing "noise" from nearby sonar units, so you can fish in a group with no problems.
The LX-6, LX-7 and LX-9 all come in MarCum's signature padded red softcase with a rechargeable 12 -volt, 9 -amp battery, automatic charger and Snow Shield Faceplate.