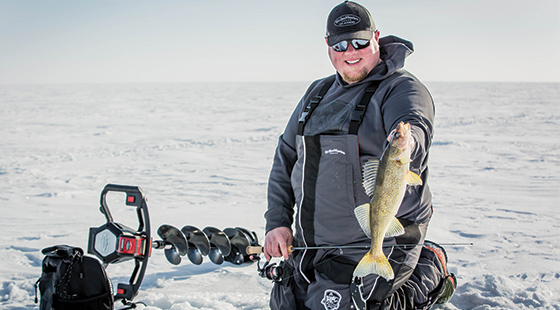 In the world of ice fishing, Lake Mille Lacs, located about two hours north of Minneapolis-St. Paul, is a special place in the Chronicals of ice fishing.
For decades, the lake was nicknamed the "the Walleye Factory," and for good reason – year after year, the lake consistently put out an abundance of keeper walleye.
In more recent years, the lake has been gaining a different reputation – it's output of breathtaking, trophy-sized fish. Big, fat 30+ inch walleyes. Ginormous world-class muskies that regularly break 50+ inches. And football-size smallmouth.
As the lake ices up, Ice Force® team member Brad Hawthorne, owner of Hawthorne's Guide Service, which provides guide service in both summer and winter, can't wait to hit the ice and hook his clients into some truly epic Mille Lacs fishing.
Hawthorne is one of the most recognized and respected anglers on Mille Lacs, if not in the state of Minnesota. He's also the host of Hooked on the Water, a series of original webisodes sponsored by Rapala that focuses on teaching anglers how to catch more fish, such as how to catch monster walleye through the ice.
We recently caught up with Brad to find out how he's preparing for the upcoming ice fishing season.
Enjoy!
It's been about 8 months since last ice! How does it feel to know the ice season is right around the corner?  
"It feels awesome! Our clients are calling us to plan their trips and the ice crew – me, Tom, Jason — have been knocking out one or two projects per week to get ready for the winter guide season. We're testing heaters, re-spooling reels, oil changes, charging batteries, and checking fish locations while we still can get the boats out."
Any predictions on when first ice will be?
"For Mille Lacs, I think we'll be on the ice by December 4th."
How is Covid-19 going to affect your guide season? 
"It's just going to take us more time. Just like in the summer, we need to sanitize everything after the day is done. Winter won't be any different. That means sanitizing rod handles, portables, sonar units, etc. It adds another layer when the day is done, but our clients appreciate it knowing that we're doing our part."
As a full-time guide on Mille Lacs, how do you think fishing will shake out this season? 
"I think Mille Lacs is going to be ridiculously good this year. I always go off the late fall bite and it was off the charts in October and November. Anyone who pitched jigs or trolled shallow this fall has a pretty good idea of what we're in for.  We have a lot of walleye in the system right now — everything from 15 inchers up to some big ones in the 28+ in. class. As long as we get good ice, we're going to have a great season."
Besides guiding Walleyes on Mille Lacs, any other locations or species that you plan to target this season?
"When we get into late February, we guide on other lakes in the area as well as up in the Grand Rapids area for big perch and crappie. It's a nice change of pace after the walleye slow down on the big lake."
What are you most excited about for the 2020-2021 ice season?  
"Our family just enjoyed the birth of our 2nd son, and that takes the cake even over first ice."
Which new product are you most excited to use this year? 
"The Humminbird Mega 360 fish finder. We ran it last season and it literally changed the way we ice fish. Having a complete view of walleye, structure and how they're using it is absolutely awesome in the winter. It's cool to see a school of walleye 80 feet away, walk over and drill and catch. We're more efficient guides because of it."
What is going to be your favorite technique or lure this season?  
"Spoon fishing. It's always fun figuring out what style, color, rattle/no rattle, downsize/upsize and knowing what spoon to tie on when the sun starts to go down. It's always different every year, last season UV anything was hot and the year before we couldn't keep them off the natural perch VMC® Tumbler Spoon, which happens to be my favorite."

What modifications will you do to your lures this season to catch more fish?  
"All of our walleye spoons get up-sized with 9650 VMC® Round Bend Treble Hooks. It took a long time to figure out the best treble hook style and size for walleye, but we put the time in and figured it out. You won't find me guiding without a few 25 packs in different sizes. I guarantee you, the VMC 9650 trebles are the real deal for walleye, especially when spoon fishing."

When you are on a good ice bite, how do you break down that bite for your clients to catch more fish?  
"We pay close attention to lure color, style and vibration and quickly make changes on the fly for our clients. By simply watching and changing lures out, it can make a huge difference in fish numbers by the end of the day."
What is the hardest part about being an ice fishing guide?  
"After weeks and weeks on the ice, it's missing family time. I can't wait until they're old enough to help dad out. Lol!"
What is the #1 question you are asked about ice fishing?  
"It's between 'how many fish per day' and 'how thick is the ice.'"
What is the number one tip or trick you would give to an ice angler for this season?   
"Don't fish unless you mark fish. I find most people pick a "spot" or fish memories. You know the old saying: 'you gotta find them first.'"
Lots of people are ice fishing for the first time this year…what advice would you give them? 
"Make it fun and learn every day on the ice. Also, make sure you have good ice electronics — it can make or break the day."
Thanks for taking the time to share your thoughts on ice fishing with us Brad.
"You're welcome. Wherever you enjoy ice fishing, I hope you have a great year on the ice."