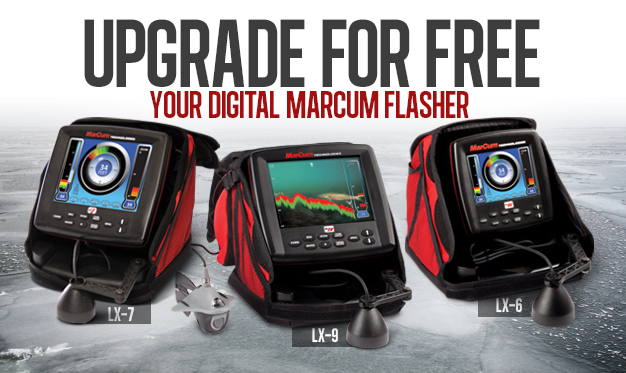 Most flashers just get older with time. MarCum digital sonars get better.
That's because MarCum releases free firmware upgrades that make your digital sonar unit even better at finding fish than on the day you bought it.
"These aren't 'bug fixes,' but free new features for an already stellar sonar unit," says ICE FORCE pro James Holst says. "It's almost like getting a new unit without putting a dent in your wallet."
MarCum is the only ice-fishing electronics manufacturer that makes digital units that can be upgraded. LX-6, LX-7 and LX-9 owners can install the free firmware updates in a matter of minutes from the comfort of their own homes.
"That's pretty consistent with just about every other piece of electronics out there today, whether it's our phones or our computers – they're constantly improving with updates and upgrades that install effortlessly," Holst says.
LX-6, LX-7 and LX-9 upgrades include improvements to enhance user experience, including setting the unit to turn on in 6-color mode, the most precise of several display modes available. "The performance capabilities of the machine are best matched to six-color mode," says ICE FORCE pro Joel Nelson.
The LX-6, LX-7 and LX-9 updates include control and performance enhancements as well, including manual dynamic adjustments in one-foot increments.
"In most occasions, MarCum's dynamic and auto settings are perfect," MarCum Brand Manager Jon Marshall explains. "In certain environments, however, you don't think twice about switching out of auto and going into manual. This upgrade enhances your ability to maximize screen resolution and display space by locking in a particular part of the water column to maximize fishing performance."
The upgrades will benefit anglers fishing for both bottom-hugging and suspending fish.
"If you want to see more of the bottom or less of the bottom you can lock in," Marshall explains. "If you want to have better control of seeing a school of suspended fish, you can lock in and have better control."
Additionally, the LX-6 and LX-7 updates enable those units with the same transducer offset found already in the LX-9. That feature helps ensure that anglers working in tandem are on the same page.
"I can't tell you the number of times you hear guys on the ice shouting depth numbers – one guy's drilling and two guys are taking depth readings, and they have no idea that they're not even calibrated to the same depth," Marshall says. "One guy may have his transducer cord out three feet, the other guy four or two feet."
The transducer offset solves that problem. "So when we're sharing depths with each other, they're actual," Nelson says. "That's especially important when you're on a shallow fishery like Minnesota's Upper Red Lake, where a one-foot change in depth is a major break-line."
LX-9 upgrades include the same user-experience enhancements available for the LX-6 and LX-7, as well as several updates unique to its digitally controlled underwater viewing system – a one-key record button, camera brightness/contrast control, and Color Kill technology ported over from MarCum's top-of-the-line VS825SD underwater camera.
"In some tannic stained or green-algae-tinted water, a black-and-white camera will actually perform better than color,"
explains ICE FORCE pro Brian "Beef" Sathre. "With the upgrade, the LX-9 angler now has more control over how sees with his underwater eyes."
Although the LX-9's camera features an auto-adjusting iris, anglers requested a manual option to allow minute adjustments in certain situations. Many of MarCum's firmware upgrades follow customer feedback. "There's a lot of great ideas that we get from users out there, and a lot of those ideas are exactly what we put into these updates," says MarCum Sales Manager Steve Hanson. "The goal is to let MarCum users grow with us, and their feedback is critical in what we do, going forward."
Marshall agrees, explaining that MarCum's digital series exemplifies its motto, One Step Ahead. "Features for features sake are useless unless they help you catch more fish," he says. "The digital series starts with MarCum's proven brand of high-power sonar and piles it on from there."
Update System Requirements
The upgrades are available via download from on MarCum's website, marcumtech.com.
The LX-6 and LX-7 update requires a PC computer with 2.0 USB port and a 2.0 USB cable. Do not attempt an upgrade without 2.0 port or cable.
The LX-9 update requires a PC or Mac computer with a Micro SD slot. You can use the same micro SD card that came with your LX-9, or another card (class 4 or higher 4-gig card required). PCs without Micro SD card slots may require an SD card reader/adapter.
Click this link to find the exact download and upgrade instructions for your MarCum unit: