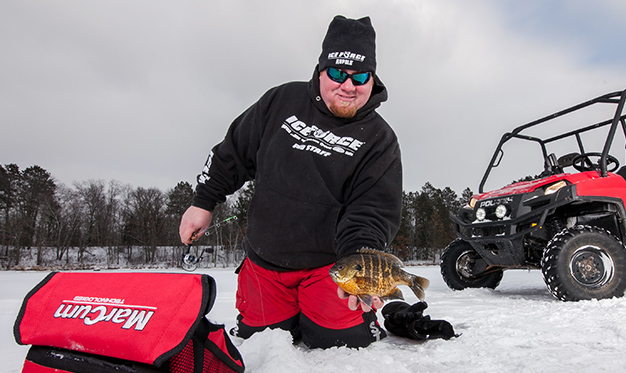 Come out of hibernation anglers! With the deep freeze over, bites are heating up across the Ice Belt.
On Minnesota's Upper Red Lake, ICE FORCE pro Brad Hawthorne is icing 15 to 40 eater walleyes a day on VMC Tingler Spoons and Rapala Rippin' Raps.
And Jumbo perch as big as 15 inches are wailing on VMC Tear Drop Jigs tipped with minnow heads for ICE FORCE pro Brian "Beef" Sathre in Minnesota's Bemidji Lakes area.
Tingler Spoons & Rippin' Raps
On Upper Red Lake, "ice conditions are improving, roads are getting plowed and the slotties are biting," says Hawthorne, a fulltime fishing guide.
Capitalizing on a bug hatch that's "just starting to pop," Hawthorne has been putting clients on walleyes recently by setting up over "mud holes" in 13 to 14 feet of water "away from the crowds," about four miles off shore.
"We're seeing the major fish movement out deep right now," he says, noting that on shallow, bowl-shaped Upper Red, 14 feet is deep. "Were still seeing 15 to 40 fish per day on that bite under stable conditions."
Tingler Spoons [Product 'Tingler%20Spoon' not found!], tip-ups and the RapalaRippin' Rap® [Product 'Rippin%20Rap' not found!] have all "put fish in the pail," in recent weeks, Hawthorne says. The Rippin' Rap has been his go-to bait when fish are aggressive. Blue-Chrome has been the hot color pattern.
Depending on the mood of the fish, Hawthorne jigs the Rippin' Rap with different cadences. The "traditional method" is to give it three big, upward rips and then shake it in place. If the walleyes don't respond to that, he'll "drop straight down and 'poof' the bottom, then pick it up and slowly shake it." You can watch Hawthorne demonstrate these tactics in a video on his Facebook page.
On most days, Hawthorne stays on the move, "running and gunning" to keep his clients on top of active, biting, fish. "The more active, the better they are," he says. "I'm looking for numbers, not size on Upper Red Lake," he says. "I'm looking for 30 to 50 fish a day. And if it's not 30 to 50 fish a day, I keep the Otter portable shelters moving."
Hawthorne invites anglers that "have a little gumption in them" to visit Upper Red Lake and "reap the bounty" of exploring "virgin territory." Find new areas, he says, "don't be afraid to move around." But keep checking ice thickness and safety as you go, he cautions.
Jumbo Tear Drop Jig Bite
An hour and a half south of Upper Red Lake, Beef and his guide clients have enjoyed "a really good run of 10- to 14-inch-plus jumbo perch" on Leech Lake. "And our biggest ones were practically 15's." Leech is among many lakes in the Bemidji area that are "just starting to turn on," Beef says. The bite turned on as temperatures warmed after the recent cold snap.
Tipping Tear Drop Jigs with fathead and shiner heads, Beef has been calling in and catching those jumbo perch in 19 to 30 feet of water in "transition areas" where bottom content changed to mud.
"I've never had so much luck than I have recently on the Tear Drop jig," he says. The perch have been feeding so aggressively that jig color doesn't even matter. "It looked like a redworm hatch was going on in the mud, so the perch were just putting the feedbag on," Beef says. "And they're still doing it right now, so it's still going. And there's some token walleyes mixed in too."
Beef does not wait for the fish to come to him. Instead, he runs and guns, using MarCum sonar units to locate the transition areas where fish are biting. "You can see it on the LX9 or theLX7 [Product 'LX-7' not found!]," he says. "It will be like the in summertime when you're going across open water and you see a mayfly hatch coming up. You can see little dots down there, almost like air bubble-looking things."
When he sees something he likes on the MarCum, he drills a line of 20 to 30 holes. "If I don't mark any fish right away, I'll hole hop with the cameras really quick and make sure I'm on that mud transition, and once I do, I pepper the area."
Beef's cameras are MarCumVS825SD [Product 'VS825SD' not found!] andLX9 [Product 'LX-9' not found!] underwater viewing systems. They help him hone in even further on the productive bug-hatch areas. "Every now and then, you'll see movement, almost like a crayfish would move," he explains. "And its fun, because you watch these fish just dive-bomb. They'll dive their heads right into the mud to get at those bugs. Then they come up with one and puke up all the mud."
After finding active fish with jigging rods, Beef would drill a second hole near the hot hole and set up an Otter portable shelter and run a dead stick in the second hole. "The jigging was nice because it would draw them in, but we got more hits on the deadstick," he says. The deadstick rod was rigged with a minnow head on a Tear Drop Jig as well.
"We noticed that with too much action down there, they didn't like it, so that's why we went with just a minnow head," he says. "You could have done just as well with Euro Larvae or waxies too."
Throughout the jumbo-perch bite, Beef's jigging rods have been spooled with 6-pound-testSufix 832 Advanced Ice Braid [Product '832%20Advanced%20Ice%20Braid' not found!]. "We're in crystal-clear water, but they are so aggressive, they don't care," he says. His deadstick rods are spooled with 6-pound-test Sufix Ice Magic mono in both the smoke and clear colors.
Beef's jumbo perch bite was hot from morning to evening, but not after sundown.
"Once it got dark, that bite turned off and the walleyes and eelpout moved in," he says. "As soon as you'd see on the camera the perch move out, you knew there was walleyes coming through."
Although the walleyes have been "a little more finicky," Beef says, they will hit VMC Flash Champ and Rattle Spoons.