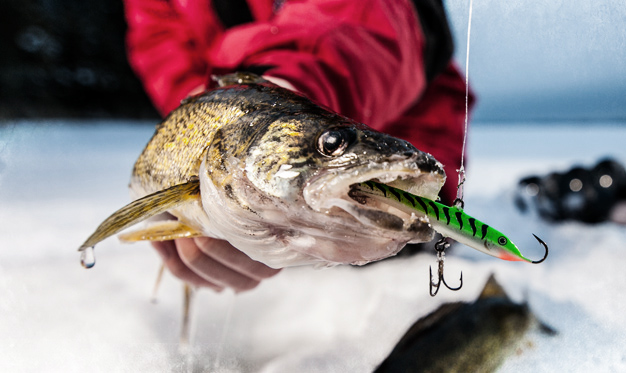 To catch walleyes this time of year, your best bet is downsized Rapala baits. But for slab crappies, consider upsizing.
That's the recommendation of In Depth Outdoors TV Host James Holst, an ICE FORCE® pro who's been catching walleyes and crappies across the Upper Midwest all season. Among his best multi-species baits has been Rapala's Ultra Light Rippin' Rap.
"I'm telling' ya, the Rippin' Rap is the way to go," Holst says. "They just scarf that Rippin' Rap®!"
Compared to productive early-season walleye baits, Ultra Light Rippin' Raps are a downsized offering. But compared to "stereotypical, mid-winter crappie baits," they're pretty big, Holst says. And although most anglers tend to "take things to the extreme on the finesse end," Holst says, Ultra Light Rippin' Raps have outproduced tiny plastics lately for big crappie.
On a recent trip to a small lake near Bemidji, Minnesota — filmed for an In-Depth Outdoors TV show  — the Ultra Light Rippin' Rap produced "more fish and bigger fish," Holst says.
You can watch that show on-demand online here.
The big crappies Holst caught on Ultra Light Rippin' Raps were suspending in 30 to 45 feet of water at about 12 to 15 feet. Smaller fish were suspending at 30 feet, but he didn't target them. Fish caught at that depth "don't release well," Holst explains, which can cause them to expire.
"Really, don't waste your time on those fish," Holst says. "Very often on these basin bites, these crappies will be so deep that it's very difficult to release them and do so ethically/responsibly. But in this case, when they're running at 15 foot, it's not a problem at all."
Featuring flat, skinny sides and a deep-belly profile designed to dive and rip, the Ultra Light Rippin' Rap flutters on the drop with a hard-vibrating action accented by a loud, distinctive BB rattle system. Textured scales and gills with deep-set 3D holographic eyes seal the deal.
A great multi-species bait, the Ultra Light Rippin' Rap measures 1-1/2 inches, weighs 3/16 oz. and comes with No. 10 and 12 fast-piercing VMC black-nickel, round-bend hooks. They come in 10 fish-attracting colors: Chrome, Chrome Blue, Firetiger, Gold Chrome, Green Tiger UV, Glow Yellow Perch, Helsinki Shad, Orange Tiger UV, Pearl Grey Shiner, Pink Tiger UV.
When filming the recent basin crappie show, Holst's best bites came on Glow Yellow Perch and Pink Tiger UV.
Down-Sized Jigging Raps
Love catching walleyes, but can't get on the ice during the dawn and dusk golden hours? Tie on a 1 1/4-inch, 1/8 oz. No. 2 Rapala Jigging Rap® and reap the rewards of downsizing for day-time 'eyes.
"It is such a small bait — not your stereotypical presentation for walleyes, but it's the only thing these fish will take a serious look at," says In-Depth Outdoors TV Host James Holst, an ICE FORCE pro-staffer. "I have not spent a lot of time fishing walleyes with a bait that small, but we'll do whatever it takes."
Holst's observations came while filming a show recently on Wisconsin's Lake Poygan, a shallow, bowl-shaped fishery in the Winnebago system. You can watch that show on-demand online here.
"If you're ever struggled in a situation where you're fishing a shallow lake with little, to no, structure this show should be your framework, your guide, on how to still be successful," Holst says. "We really feel that downsizing like this is one of the key components of staying on fish in these types of conditions."
Conditions Holst overcame to get bites included "one of the worst cold fronts of the winter," sunny blue skies, heavy fishing pressure, a forage base of mostly tiny baitfish, and little to no bottom structure to target.
Much like Minnesota walleye factory Upper Red Lake, Lake Poygan is "expansive, very shallow, and has almost no significant structure," Holst explains. On such a lake — whether its in Wisconsin, Minnesota or Maine — the first challenge is simply finding fish, which roam in schools and "can be very hard to pin down."
"You're not jockeying for a position on a break line, a point or a hump, there really is no structure," Holst explains. "The fish will just move in large masses across these flats, so its important to be in the right general area, but you're not looking for a specific spot on a spot."
While filming on Poygan, Holst and his co-host for the day, area guide Adam Rasmussen, caught numerous walleyes on No. 2 Jigging Raps by targeting the perimeter of large clusters of permanent ice houses, moving often and drilling a lot of holes.
On most popular and productive fisheries in the Ice Belt, communities of hundreds of hard-side ice houses appear every year, often in the same spots. Holst and Rasmussen often use these ice cities "as a reference," Holst says.
"You don't want to pile in with them, but those guys are there for a reason," he explains. "There's been fish caught in that general area."
On Poygan, Holst and Rasmussen kept several hundred yards away from a large scrum of hard-side houses, worked all the way around it, using the "noise and commotion created by that cluster of people to push fish out and away from the general area," Holst explains. They rarely camped on one spot for long.
"We always stress 'stay mobile, stay mobile,'" Holst says. "If there ever was a perfect body of water for stressing that, it would be a lake like [Poygan]. … Punch a couple holes, fish for a couple minutes, then move on again."
A lightweight, fast-cutting StrikeMaster auger helped Holst move with the fish and stay on a school of biters. "When you get out in front of it as its moving through, you can really see some fast action," he says. "You'll pull fish after fish for about ten minutes, and then they move on."
Featuring a balanced, weighted minnow profile, Jigging Raps swim in tantalizing circles on the fall. With single reversed hooks on the nose and posterior, and a center treble hook hung from a belly eyelet, they don't allow for misses — regardless of how a fish attacks, it's running smack dab into a hook.
Jigging Raps are available in five sizes and 20 colors. On Lake Poygan, Holst and Rasmussen enjoyed their best success by twitching their Jigging Raps slightly after the drop and then dead-sticking them. In the daytime, the No. 2 size in Glow Yellow Perch and Gold were the most productive color patterns. At dusk, a No. 3 in Purple Chrome was effective.