If the angler on your list loves to spend the winter pulling 'eyes out of the ice, look no further than ICE FORCE®, a collection of ice-fishing's most legendary brands, for sure-fire gifts this holiday season. From baits, augers, sonar camera systems and shelters to ice braid and top-notch accessories, ICE FORCE offers a one-stop shop for the serious ice head.
For big ticket, show-stopping gifts, the MarCum PanCam or StrikeMaster Lithium Lazer auger can't be beat this year.
MarCum® PanCam Underwater Camera
Fishing two holes at once has never been easy — until MarCum® introduced the groundbreaking PanCam this year. With this industry-first underwater camera system, hard-water diehards can fish the hole at their feet and monitor the action at a second hole from up to 300 feet away via a live video stream linked directly from the camera to any iOS or Android device. The MarCum PanCam syncs with the free MarCum Control mobile app, which enables anglers to change the camera's direction and adjust lighting. It also gives them the power to transform the PanCam unit into a digital video recorder, capable of capturing video and still images that can be instantly shared with friends on Facebook or Twitter, making it easier than ever to boast their latest catch. Because the PanCam works with nearly any modern underwater camera system, it can be purchased with or without a camera. This state-of-the-art system has officially brought ice fishing into the digital age.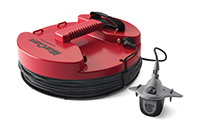 StrikeMaster® Lithium Lazer™ Ice Auger
A bonafide workhorse, the StrikeMaster® Lithium Lazer™ leverages the most modern technology available to deliver ice anglers a one-of-a-kind electric auger that can drill an amazing 56 holes though 24 inches of ice on a single charge. Combining peak efficiency with brute force, the Lithium Lazer is built on a proven StrikeMaster 25:1 transmission and comes with a fast-charging removable 50-volt lithium ion battery. It's polymer gear casting allows this ice-crushing masterpiece to pack a wallop into a lightweight body for effortless drilling. Armed with ultra-sharp Mora™ Twin Stainless Steel Lazer Blades, it also includes an over-sized throttle, removing the hassle from operating an auger while wearing thick winter gloves. With the StrikeMaster Lithium Lazer, you'll spend less time drilling holes, and more time watching lunkers flop through them.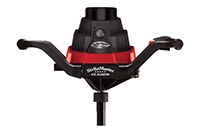 Premium Rapala® Fillet Knives By Marttiini
Masterfully crafted by legendary Finnish blade manufacturer Marttiini for more than a half century, a premium Rapala® fillet knife is a must-have accessory for the anglers in your life. Used in more fish camps and on more charter boats than any other brand, each Rapala knife is masterfully crafted with a renowned razor-sharp blade that anglers worldwide have grown to trust. With a wide variety of specialty blades available, fishing fanatics can find a knife for any application — from simple fillet chores to cleaning larger, boney species.
Choose from beautiful, ornamental knives like the Rapala Classic Collector Fillet or dependable knives for everyday use such as the Fish Camp Fillet and Deluxe Falcon™ Fillet. A gift that will be used time and time again, Rapala fillet knives are like a shortcut to the frying pan.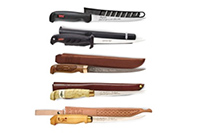 Rapala® And ICE FORCE™ Apparel
A great fit for the boat, ice house or night out on the town, Rapala®, StrikeMaster®, MarCum® and ICE FORCE™ apparel will ensure your friends look good when they haul in their next big catch. Available at Rapala.com, take your pick from hoodies, hats, T-shirts and other quality accessories that blend comfort with the functionality anglers demand. With overnight shipping (if ordered before 1 p.m. CST), Rapala and ICE FORCE apparel is the answer to your last-minute shopping needs.
Visit www.rapala.com for pricing.