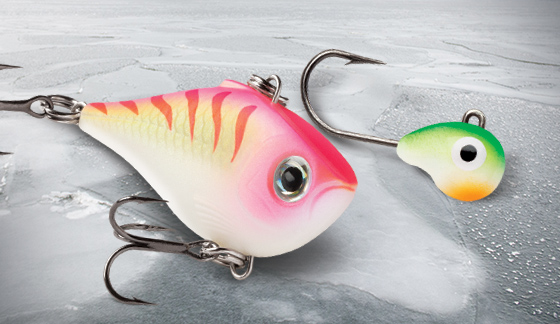 With Mother Nature busy making ice, Tom Neustrom and Brad Hawthorne are busy making plans to fish new Rapala and VMC baits as soon as they can safely set foot on hardwater.
Both ICE FORCE pro-staffers are anxiously awaiting first-ice so they can tie on a new
Ultra Light Rippin' Rap®.
"I'm most excited about that new, smaller Rippin' Rap, the Ultra Light," says Hawthorne, an ice-fishing guide on Minnesota's Upper Red Lake. "I was lucky enough to get some samples at the end of last winter and put 'em to use right away. It was insane! There's not another rattling bait on the market that's better than that bait – as far as action, color, flash and glow."
Featuring flat, skinny sides and a deep-belly profile designed to dive and rip, the Ultra Light Rippin' Rap flutters on the drop with a hard-vibrating action accented by a loud, distinctive BB rattle system. Textured scales and gills with deep-set 3D holographic eyes seal the deal.
"I'm excited to use it," says Neustrom, a Freshwater Fishing Hall of Fame Legendary Guide. "It's got that shaking, wounded baitfish action that I know is going to work. It's going to be a really great bait."
Rapala developed the Ultra Light Rippin' Rap in response to the growing popularity of ice fishing with No. 5 size Rippin' Raps designed for open-water fishing. The Ultra Light is a No. 4 size.
"The No. 5 is an aggressive bait, and when the fish are aggressive, they have no problem committing to hit it," Hawthorne says. "But the No. 4 allows you to have another step in between a large, loud, aggressive presentation and a smaller, equally aggressive, but just a bit quieter, presentation. So it fills that gap between a No. 5 Rippin' Rap and a spoon."
Neustrom will use Ultra Light Rippin' Raps to target early-season walleyes and big crappies on Lake Winnibigoshish and other lakes in the Grand Rapids, Minnesota, area.
"Early in season – and into the season – with walleye fishing, bait size is really crucial," he says. "A lot of times, you just need a little morsel. Sometimes they're not looking for the big bait."
Although the Rippin' Rap bite on Upper Red Lake has traditionally been hot in early December through the first to second week in January, Hawthorne says, last winter the Ultra Light extended his "heavy-artillery rattlebait season" about three to four weeks. "It brought me all the way through the end of January and into the first part of February," he reports.
As walleyes get progressively less aggressive through the coldest period of winter, Hawthorne says, smaller baits become more effective. "When the No. 5 Rippin Rap' is too loud, too big or too flashy," he says, "the No. 4 is perfect."
It's perfect too on early-season days when, for whatever reason, previously aggressive walleyes get in a negative funk. In the early-ice period, try starting the day with a No. 5 Rippin' Rap, but switch to an Ultra Light if you're getting bumps and short-strikes but the fish aren't committing. That's a sure sign it's time to downsize to a smaller offering.
"The Ultra Light is going to give me an option that will probably be better when the fish are off a little bit," Neustrom says. "And that's going to turn them on."
A great multi-species bait, the Ultra Light Rippin' Rap measures 1-1/2 inches, weighs 3/16 oz. and comes with No. 10 and No. 12 fast-piercing VMC black-nickel, round-bend hooks. They come in 10 fish-attracting colors: Chrome, Chrome Blue, Firetiger, Gold Chrome, Green Tiger UV, Glow Yellow Perch, Helsinki Shad, Orange Tiger UV, Pearl Grey Shiner, Pink Tiger UV.
Neustrom recommends fishing Ultra Light Rippin' Raps on a 24-inch, 4- or 6-pound-test Sufix InvisiLine Ice 100% Fluorocarbon leader connected via a small barrel swivel to an 8-pound Sufix 832 Advanced Ice Braid main line. The braid provides sensitivity and hook-setting speed and power; the fluoro is invisible and sinks fast; and the barrel swivel prevents line twist.
VMC Tungsten Tubby Jig
Another new bait that Hawthorne will give a workout this winter is VMC's Tungsten Tubby Jig.
"The Tubby Jig is so heavy, it will keep a minnow on a dead-stick rod pinned right where you want it," Hawthorne explains. "It does not allow the minnow to swim up, but it gives it a nice side-to-side flash."
Because Minnesota allows ice anglers to fish two lines at a time, Hawthorne fishes a dead-stick rod rigged with a Tubby Jig and live minnow at the same time he actively jigs a Rippin' Rap or spoon in another hole about two feet away.
"You can't aggressively jig two rattlebaits or two spoons at the same time effectively," Hawthorne says. "So the Tubby Jig allows me to use an aggressive bait in one hole and keep a minnow pinned in place in another."
Because Rippin' Raps, spoons and other baits tend to flutter out in all directions under the hole on the drop, Hawthorne advises, you must restrict your dead-stick minnow's movement, in order to prevent tangles.
"The worst thing that can happen in an aggressive-bite situation is a tangle," Hawthorne says. "It'll wreck your day. A Tubby Jig won't let your minnow swim towards your bait or swim away from a fish that comes in."
When Neustrom presents live bait to panfish, he drops it fast on a Tubby Jig.
"That was really a go getter when I got ahold of some early samples last winter," he says. "I load it up with three to five waxies or Eurolarvae."
Because tungsten sinks faster than lead, even a small-profile jig can get down to the fish much faster than a traditional lead jig. "So if I catch one and I see another one on my locator, I can drop down to it right away," Neustrom says. "That will put me back on the fish again. Whether it's perch, bluegills or crappie, it's essential to get that bait back down quick, because they don't hang around too long."
The Tubby Jig's exclusive VMC Power Gap hook features a wider round gap than other micro-jigs of equal weight, greatly increasing your hook-up percentage. The hooks on many other Tungsten jigs are really small — like fly hooks — making it very difficult to rig live bait or soft-plastics on them. A 90-degree hook eye, which ensures an optimal horizontal position of the jig, allows ice anglers to convert more hits into solid hooksets, and lose fewer fish at the hole.
Tungsten Tubby Jigs are available in three sizes, two per pack: 1/64 oz. (size 14 hook); 1/32 oz. (size 12 hook); 1/16 oz. (size 10 hook). They come in two natural color patterns, Crappie Minnow and Mayfly, and six Ultra Glow patterns: Glow, Green Orange Glow, Orange Chartreuse Glow, Pink Chartreuse Glow, Glow Chartreuse, Glow Red. Ultra Glow plastics will glow for as many as 15 minutes after charging.