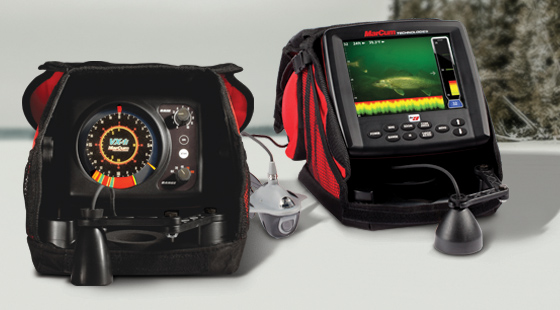 Whether you're mechanically minded or decidedly digital, you'll get the features to put you on the fish with a MarCum®.
"There are no other sonar units on the market that give you as much bite for the buck," says in-demand fishing guide Brad Hawthorne. "Feature for feature — mechanical or digital — MarCums out-fish the others."
For Hawthorne, who guides all winter on the ice-fishing mecca of Minnesota's Upper Red Lake, one feature — available in all MarCums from entry-level mechanical flashers to top-of-the-line digital units — makes the difference between a great season on the ice and a mediocre one.
"What keeps me infatuated with MarCum is the superior target separation," Hawthorne says. "It's a huge deal that's not widely understood, I think."
The better your flasher's target separation, he explains, the better you can find fish holding tight to bottom. And that helps you decide if a hole is worth fishing that moment, or best left for checking later.
"Superior target separation lets you know what's really below you," Hawthorne says. "It lets you know – before you even drop a lure – whether a hole is worth fishing."
He explains:
"If the fish are tight to the bottom and you don't have superior target separation, you're not going to know they're there. So you could waste a whole day if the fish stay in that mood — you'd come back in and say it was a bad day. But the guy with the MarCum comes in and says it was a pretty good day."
Mechanical Flashers
All of MarCum's mechanical flashers feature superior target separation, from the top-of-the-line units to the entry-level VX-1i.
"If you're a guy that goes out maybe four or five times a year, you can't beat the VX-1i, feature for feature," Hawthorne says. "The price point on it when you compare it to any other brand – compare the zoom, power, padded soft-pack, and target separation — it kicks every comparably priced unit's butt! To get those features in any other brand, you're going to pay a lot more."
While other entry-level flashers rarely offer zoom functionality, for example, the VX-1i does. "So with the push of one button, you can focus in on the bottom five feet of the water column," Hawthorne says. "Push the zoom button a second time and you expand the zoom window to cover the bottom 10 feet."
For anglers willing to push a few more buttons, but aren't ready to step up to a digital flasher, there's the LX-3tci, the LX-5 and the new LX-5i — all of which feature larger displays and new viewing-angle and anti-snow enhancements.
Featuring 1 1/2-inch target separation in default mode and 1-inch target separation in zoom mode, the LX-3tci features fully adjustable zoom, patented 10-level interference rejection, 2,000 watts of power and TrueColor® technology to yield superior resolution and the sharpest, most detailed display attainable.
The most advanced mechanical flasher ever built, the Marcum LX-5i offers 3/4-inch target separation, 2,500 watts of peak-to-peak power, Vivid TrueColor® technology, a precision-tuned dual beam transducer (to switch between 8° and 20° cone angles for deep- and shallow-water use), industry-best interference rejection, and a patented moveable Zoom feature that allows the user to zero-in on any segment of the water column.
All of MarCum's mechanical flashers are manufactured in the USA and come with padded softpacks, rechargeable 12-volt batteries and 3-stage automatic battery chargers. And each features a patented interference-rejection system.
"Interference Rejection cleans up stray signals from nearby electronics, making it not only possible, but enjoyable, to fish in a group on the ice," Hawthorne explains.
Digital Flashers
More than just flashers, each of MarCum's digital sonar units, the LX-6s, LX-7 and LX-9, give anglers multiple display options – water-column vertical, vertical zoom, flasher-dial and traditional horizontal LCD graph.
"With the digital systems, it's all personal preference, and that's why I love them," Hawthorne says. "Beyond all the amazing features, they give you the ability to customize and hone your ice-fishing sonar the way you want it."
The LX-6s and the LX-7 feature 3/4-inch and 1/2-inch target separation, respectively. "That really lets you read a fish's attitude and commitment level," Hawthorne explains. "If you have solid red marks underneath you, you have active fish that will come in on, say, an aggressive spoon technique. But if you start getting faint marks that just aren't coming in to right below you, it you tells you to slow down. That might mean a heavy jig and getting a little more subtle, or maybe just a tip-up."
The LX-6s, LX-7 and LX-9 each feature selectable 5-, 10-, 20- and 40-foot zoom windows, Infinitely Adjustable Zoom, Bottom Lock Zoom, a patented 12-level interference-rejection system, a dual-beam transducer (switch between 8-degree and 20-degree cone angles for deep- and shallow-water use) and 4800-watts PtP.
"And power matters," Hawthorne explains. "Fish can easily elude detection by the low wattage pushed by other brands."
MarCum's top-of-the-line digital unit, the LX-9, offers additional benefits, especially for anglers who fish out of permanent, hard-side ice houses. That's because it can simultaneously display live underwater footage from an underwater camera and sonar returns and output that to your ice-house's big-screen TV. A built-in DVR provides screen recording and instant on-screen playback. It can record also to a separate SD card, or via video-out.