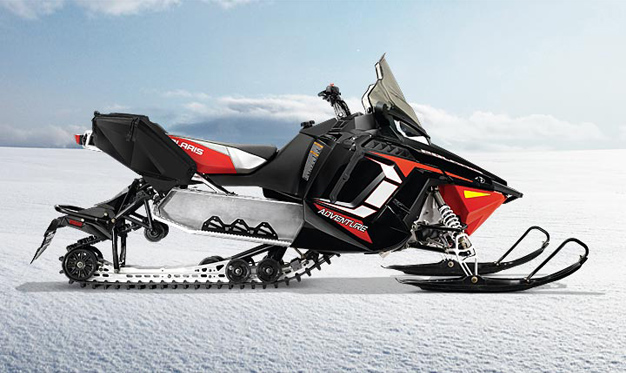 Complete terrain domination – for Chris Granrud, who makes a living putting clients on productive ice-fishing holes, that's more than a nifty slogan. It's a necessity.
That's why the ICE FORCE Pro-Staffer relies on Polaris, guiding on Rainy Lake.
"I've chosen to run Polaris sleds and ATVs for not only the performance aspect, but the reliability we count on to bring our customers in and out safely," says Granrud, owner/operator of Rainy Daze Guide Service.
It's for ice anglers like Granrud that the Polaris Adventure was designed. The "Swiss Army Knife of sleds," the Adventure is full-featured and versatile, featuring a progressive-rate suspension for a more comfortable and fun ride. And the Adventure's Pro-Ride™ Switchback® Adventure Chassis delivers precise handling, even in the nastiest terrain. For guides like Granrud, that's key.
"On guide trips, we can travel 50-60 miles up here," he says. "We fish far beyond any sniff of plowed roads! Off the beaten path is truly the storyline of each and day we fish."
Long runs require more gear, so the Adventure's cargo system features Lock & Ride® saddlebags for easy storage and transport.
A recognized leader in the powersports industry, Polaris is the most recent addition to Rapala USA's ICE FORCE, which comprises the ice-fishing industry's premium brands, including Rapala, StrikeMaster, MarCum Technologies, Otter Outdoors and Sufix.
"Polaris is synonymous with ice-fishing enthusiasts as the top brand for getting them and their gear on and off hard water," says Rapala USA president Tom Mackin.
WideTrak
For Ice anglers that haul heavy ice houses and more gear, there's Polaris' workhorse model, the WideTrak.
Purpose-built to tow and haul, the WideTrak features its namesake extra-wide 20-inch track and a hi-low transmission. Anglers who must navigate uneven ice and heavy drifts before drilling their holes will find those features indispensable.
Anglers who ride tandem to their hot spots will appreciate how the WideTrak's cargo rack and roomy underseat storage can accommodate both of their gear. They'll also enjoy the comfort afforded by the WideTrak's new Lock & Ride® Backrest, which adjusts for a passenger's comfort. When riding solo, however, the system can be moved forward for the driver's comfort.
IQ LXT
Speaking of comfort, enter Polaris' IQ LXT, which offers not only high performance, smooth riding, and easy handling, but additional angler-friendly amenities, including:
• Two-up seat with Lock & Ride® Backrest gives the option of riding tandem or solo
• Passenger handwarmers allow both riders to travel in comfort
• Adjustable, five-position steering allows you to move the bars to your preferred feel
• Heated shield plug and 12V outlet for power where you need it
About Polaris
In addition to snowmobiles, Polaris designs, engineers, manufactures and markets innovative, high quality off-road vehicles (ORVs), including all-terrain vehicles (ATVs) and Polaris RANGER side-by-side vehicles, motorcycles and on-road electric/hybrid powered vehicles.
Learn more about the complete line of Polaris products, apparel and vehicles accessories at www.polaris.com, www.facebook.com/PolarisOffRoad and www.facebook.com/PolarisSnowmobiles.