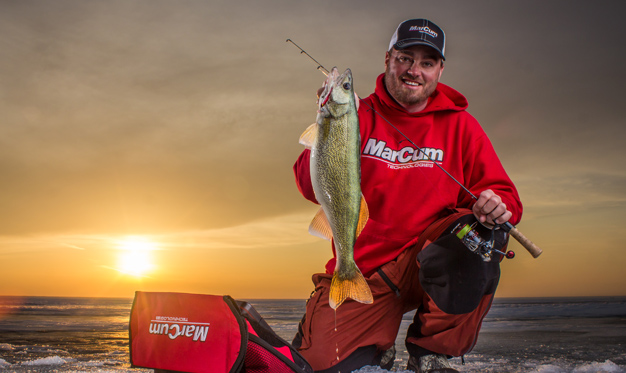 Even before Calvin Svihel bought his first flasher with college-loan funds, he'd been a student of schools of fish. That he's now an ice-fishing teacher is testament to how much he's learned.
"I get more out of teaching someone ice-fishing techniques than catching fish myself any more," says the ICE FORCE Pro-Staffer. "But there's always more to learn, so you'll find me on the ice all winter, chasing any fish that will bite my jig or bend my rod."
An avid fisherman since his youth, Svihel honed his open-water fishing skills while in high school in Central Minnesota, working at a bait shop. It was there that he found also a passion for "helping others enjoy the terrific sport of fishing."
He credits his extended family with teaching him about ice fishing, which became his main passion.
"I don't even own a boat," he says, "I live for the hard-water season!"
A multi-species angler, Svihel has a knack for finding the hottest bites on Twin Cities metro-area lakes, Mille Lacs, Lake Winnibigoshish, Leech Lake, Lake of the Woods and the Mississippi River.
"Cal is one of the most analytical and methodical anglers I've fished with," says fellow ICE FORCE Pro-Staffer James Holst, who appears with Svihel on the "In-Depth Outdoors" TV show. "His mind is like a tape recorder, documenting every detail from every interaction with every fish throughout the day."
Svihel processes those details, Holst says, "to refine his presentations and narrow his focus in such a manner that he's a bit like a fish detective – collecting clues and tracking suspects – and at the end of the day, putting the 'bad guys' on ice!"
Good anglers are observant, seek information, and put together a game-plan, fellow ICE FORCE Pro-Staffer Joel Nelson says. "Cal is a great angler, because he doesn't chase reports, he makes them."
"Being able to anticipate bites, keeping track of what should be popping when and where, and then making an actionable plan to get at those fish is what separates Cal from most of the crowd," Nelson says.
A MarCum pro-staffer for five years before ICE FORCE launched, Svihel uses his electronics for "power" fishing" – "presenting my baits to as many fish as possible."
"But I'll slow down and stick it to finicky fish when necessary, too," he says.
And don't let his big smile fool you. When it comes to getting on big fish, he gets serious.
"I've got a lot of determination," he says. "True grit!"