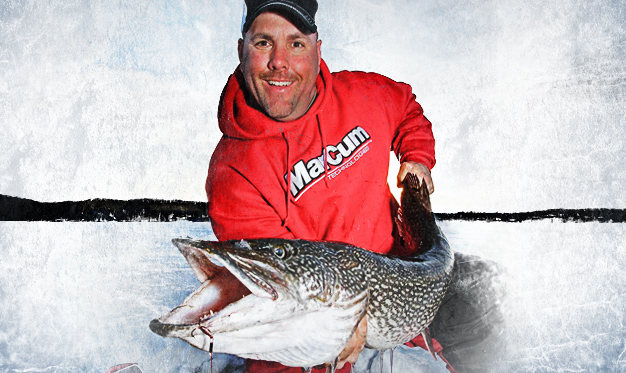 Where's the Beef? Rockin' out on the ice, that's where!
Surrounded by thousands of the best fishing lakes in the Ice Belt, ICE FORCE Pro-Staff Bryan "Beef" Sathre considers himself blessed to be able to spend as much time on the water and ice as possible.
"Within 20 miles of my home are literally hundreds of the finest waters in the country," he says.
Lakes that Beef regularly fishes and guides on include Lake Bemidji, Cass Lake, Leech Lake, the Mississippi Chain and a host of smaller lakes he's choosing to keep secret.
"I call them Lake Nunya," he says, laughing. "As in nun'ya business! Just kidding, come fishing with me and I'll show you."
Owner and founder of Fathead Guide Service and Promotions, when Beef isn't wetting a line, chances are pretty good he's teaching others how to fish. More importantly, his level of excitement when fishing or talking fish is contagious.
"Usually when I'm out there, I have my two sons with me, because I really enjoy getting people excited about fishing – probably even more than I love actually fishing, which is huge," he says.
Born and raised in the Minneapolis suburbs, Beef's love of fishing came from his dad, who was a true sportsman. When it was time to go off to college, Beef felt the draw of the north and hasn't looked back.
Chances are you've learned something about fishing from Beef sometime in the last few years. He's appeared in numerous regional and national newspaper and magazine articles and makes regular appearances on television and radio. And you might have talked with him at a retail outlet or ice fishing show talking about StrikeMaster, Marcum, Polaris and Otter – brands he's been using for nearly a decade, and remains loyal to.
"I enjoy getting out there and talking with people about fishing – hearing their stories and being able to give them ideas to improve their own experiences," he says.
Beef doesn't just talk the talk on this one either. For the last five years, he's served as co-chair of the Bemidji State Hardwater Classic. This ice-fishing tournament raises money for Bemidji State University athletic scholarships. Additionally, he volunteers at other ice-fishing events and his promotional work always turns out the crowds. Along with the Bemidji State Tournament, Beef has co-chaired the Paul Bunyan Kids Perch Derby the last four years. Last year's derby drew more than 1,300 kids under the age of 13 to the ice.
Beef's full-time gig the past 12 years has been as a health and physical education teacher at Cass Lake High School. He's brought fishing to his students in ways that will help them shape the future of the sport for years to come.
"Among the many things we do, my students help the DNR strip walleye in the spring during the spawn, they build fishing rods and many of them volunteer at local ice fishing events to help them run smoothly," Beef says.
His fishing class has been recognized both locally and by the Foundation for Excellence in Teaching and Learning, which awarded the class with an impressive grant to continue teaching the different facets of the fishing world.
Being part of the ICE FORCE team is another way Beef will be able to reach a broad audience of anglers.
"My passion is educating kids and families on the ice while also promoting the sport of fishing," he says, flashing his characteristically huge smile.  "Showing anglers how they can get out there and do it themselves, how they can put the best fishing equipment to use, is a lot of fun and very rewarding!"