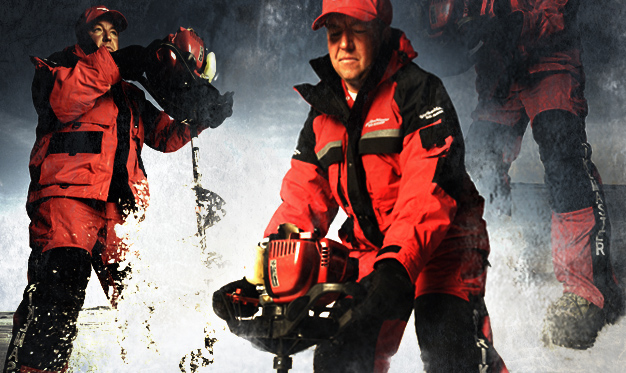 When fish move, they don't bring baggage. Ice anglers don't have that option. Good thing we've got StrikeMaster augers.
"The fish don't lug gear when they move, so they've got a head start on us ice anglers," says ICE FORCE Pro-Staffer Tony Roach. "StrikeMaster's light, easy-starting and fast-cutting augers help me catch up to them quicker. If my auger was heavier and slower cutting, it would be hard to keep up with the fish and stay on a bite."
That's the StrikeMaster difference.
A fishing guide and media personality who spends more than 90 days on the ice, Roach has been enjoying the StrikeMaster difference for more than a decade. "In that time, I've seen the company grow and gear everything towards the premise of 'lighter, faster, more efficient,'" he says. "That goes right along with everything I do, the way I ice fish."
An innovator of "ice trolling," Roach drills hundreds of holes and stays on the move, fishing multiple productive spots much in the same way he would in the open-water season. "I drill a lot of holes," he says, verging on understatement. "Sometimes as many as 500 to a thousand. … I don't know anyone that drills as many holes as I do."
For an angler on the move like Roach, power and cutting speed are not the only important considerations. Weight is important too. That's why StrikeMaster augers are made lighter than their major competitors, often by a significant amount. This allows anglers to punch more holes, with less effort, while searching for that next hot school.
"If I had to use some sort of other auger, you start thinking twice about how many holes you're going to drill and whether you should move or not," Roach says. "Because then it becomes a workout – versus an enjoyable fishing experience that you should be having."
With his StrikeMaster auger, however, Roach never thinks twice about drilling so many holes. "Because "it's kind of like getting in your car and driving it – you don't think about it, because it's so easy."
StrikeMaster has been building the highest quality ice augers and ice fishing equipment for more than 60 years. Where other companies will use lower-quality powerheads made in China, StrikeMaster uses German-engineered Solo motors on its 2-stroke augers and Honda motors on its new 4-stroke models.
"In ice fishing, you can live without a lot things – certain creature comforts," Roach says. "But I can't get by without a StrikeMaster."