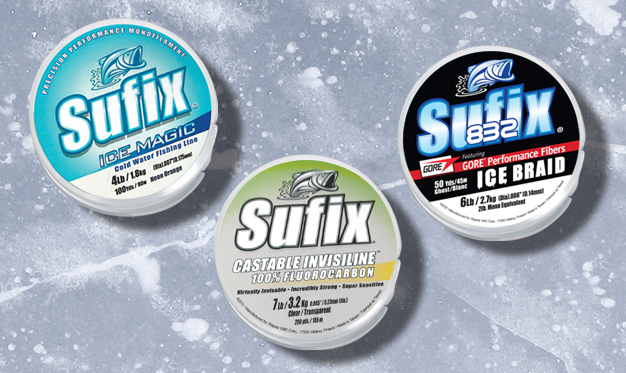 When the mercury plummets, you want an ice line that stands up to the frigid temps and remains flexible.
Fortunately, there's never been a better time to be an ice angler when it comes to fishing line options, says ICE FORCE Pro-Staffer James Holst, host of TV's In Depth Outdoors. No matter what you're fishing for, there's Sufix ice line right for you.
"A few short years ago, a single line – often a stiff, coily and none-too-user-friendly monofilament – was expected to perform in all conditions," Holst recalls. "Today's anglers have a multitude of line choices available at their fingertips. Super braids, monofilaments and flourocarbon abound, and there's a line right for every ice fishing application."
Ice Magic Mono
Chasing bull bluegills and slab crappies? Sufix Ice Magic monofilament is your ticket to success.
"Sufix Ice Magic clear in 2 lb. and 3 lb. varieties is about all I spool for panfish," says ICE FORCE Pro-Staffer Joel Nelson, who lives on the hardwater of Minnesota, chasing big panfish.
Made with special additives to deter water absorption, Sufix Ice Magic resists ice build-up on your line, guides and spool. It also sinks faster than traditional monofilament, allowing for a more natural bait presentation.
And if you require a hi-vis line to help aid in bite detection, Sufix Ice Magic is available in hi-vis neon orange. "It's easy to see against the snow and ice," Holst notes, "making that subtle tap of a light-biting bluegill stick out like a sore thumb!"
For walleyes and perch, Nelson spools up 6 lb. clear Ice Magic mono, which features the same great break-strength as the panfish variety.
"They don't make walleyes big enough to break off 6 or 8 lb. Sufix Ice Magic," he says.
Clear-water Line
Doing battle with hard-fighting predator species like pike and lake trout? Fishing gin-clear water? You'll appreciate the unique characteristics of a user-friendly Sufix Castable Invisiline 100% Fluorocarbon.
Fluorocarbon fishes like mono, but is virtually invisible, eliminates line twist and stretches less. It's low-stretch index provides optimal sensitivity and hook-setting power, giving anglers extra punch for sure hook sets.
"Sometimes reduced stretch means the difference between a solid hookset and swinging and missing," Holst says.
Additionally, Sufix fluorocarbon is incredibly strong, and abrasion resistant, and resistant to ultra violet light from the sun, which can damage line.
832 Ice Braid
As summer anglers know, the limited stretch and abrasion-resistant nature of braid puts the superline in a class of its own. Sufix 832 Ice Braid gives ice fisherman the same advantage.
"Ice anglers fishing deeper water – where limited stretch means the difference between a fish on the ice and a missed opportunity – and anglers that require the ultimate in sensitivity can now, for the first time, enjoy all the advantages of a braid, regardless of temperature, free from any icing issues that have plauged braids in the past," Holst says.
Traditional braids fished on the ice absorbed water and quickly froze spools solid. But Sufix 832 Ice Braid, inlaid with GORE Performance Fibers, sheds water like duck feathers.
"The first time I spooled with this stuff last winter, I realized that this was the ice line manufacturers had been aspiring to formulate for decades," says Hall of Fame angler and Ice Force Pro-Staffer Tom Neustrom. "Not only is it round, thin and easy to handle, this stuff fishes with a strength and durability that seems impossible for such a low-diameter line."
That pretty much covers every key trait anglers want in a high-performance ice line.
Available well before first ice, 832 Ice Braid comes in 50-yard spools of 4-pound test in a 1-pound diameter, an in 6, 8, 10, 20 and 30-pound test in an 8-pound diameter). It's available in both Neon Lime and low-vis Ghost colors.
As with open-water braid, tie ice braid with a Palomar knot, Nelson advises.