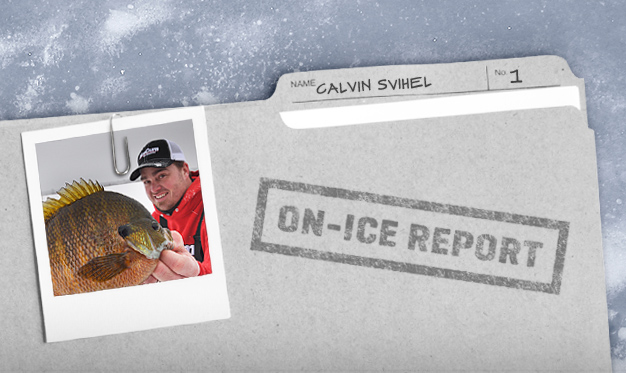 Your ice fishing been frustrated by cold fronts this season? You're not the only one!
"The majority of the fish have been relating to passing weather fronts, which has forced me to alter my typical tactics for this time of year," reports Ice Force Pro-Staffer Cal Svihel.
Still, he's been able get this winter's fickle panfish to gorge, punching holes across Minnesota, from the Alexandria and Glenwood area to the Brainerd Lakes and Grand Rapids area.
The key to locating mega 'gills isn't as easy as drilling holes and stretching the string. The first step Cal employs is to find a deep basin with a healthy shallow weed base within a few hundred yards. The second key to his success lies in uncharted territory.
"Recently, the word has been out on some of the lakes I have been fishing, so I've had to change some of my techniques," he says. If he finds old holes, four-wheeler tracks, or foot prints on a favorite spot, he'll pack his StrikeMaster auger back in his Otter sled and search for new areas to set up camp.
Just a swingin'
Among the techniques Cal's using to locate and stay on big panfish schools is the transducer swing. When he drops his MarCum LX-6's transducer down a hole in search of a school, he'll manipulate the cord to swing the transducer like a clock's pendulum.
When he swings one way and picks up a mark from a fish, "it's game on," as he continues to get closer to the school of big gills.
Force feed 'em
Once he gets onto the schooled basin fish, however, the bite has not been as lights-out as in years past. When the pressure rises, the fish become much less aggressive. To combat that negative mood, Cal's been perfecting a recipe to force-feed those picky bull 'gills.
Dropping a 5 mm tungsten jig rigged with a white spike or waxworm, Cal scans his MarCum LX-6 screen intently, watching for goliath 'gills to pop up.
"Many times, if you are too aggressive with your jigging stroke, the fish will cruise right along past your hole," he cautions.
Hold still for 'gills
A subtle stroke is paramount to enticing finicky 'gills, Cal advises. And when they close the last few inches, be sure to hold as still as possible.
Line twist is another troubling factor. Causing jig spin, it can lead many love-struck gills to lose courage. To check for line twist, drop your jig a foot or so under the water and watch for spin. If you've got line twist, strip off a healthy portion of line and re-tie.
Banker's hours
The best window this season hasn't been the traditional "golden hour" many people live to fish, Cal says. He's been experiencing a banker's bite, having his greatest success between 9 and 11 a.m.