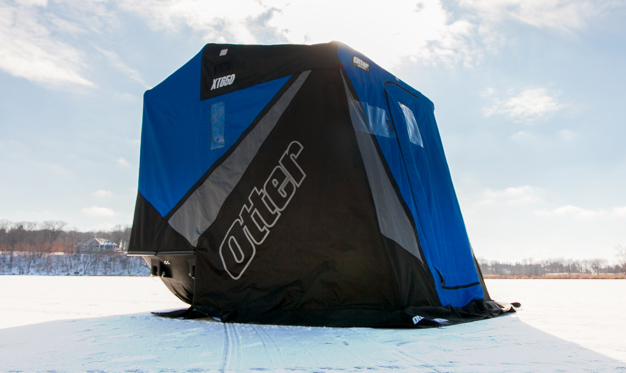 Stand-Out Performance Meets Stand-Out Look In New Otter Ice Houses
Otter ice houses feature a sharp new look this season, but the innovations don't end with eye candy. Warmer and stronger as well, the new Otters are engineered to offer the most durable, longest lasting shells on the market.
Otter's new Pro XT1200 [Product 'Pro%20XT1200%20Shelter%20Package' not found!] features an industry-leading three-layer thermal system which comprises a 900 Denier Outer Shell, High Loft Insulation and 300 Denier Inner Shell. A "denier" is a measurement unit. Much in the same way a higher thread count denotes better quality bedsheets, a higher denier count indicates a stronger, warmer ice house shell.
"I have been fishing out of Otter Ice Lodge portables for years now, and even before the fully insulated shelters were available, the tough 900 denier fabric held the heat very well," says intrepid Door County, Wisconsin, fishing guide Paul Delaney. "And they really hold heat fantastic, so you will save on propane. You will really be happy with your new Otter Ice Lodge. They are by far the finest portable shelters on the market."
With its three-layer system, Otter's Pro XT1200 [Product 'Pro%20XT1200%20Shelter%20Package' not found!] outperforms every shelter on the market in all key categories:
• Construction, durability and longevity
• Wind-stopping ability and noise reduction
• Heat retention and condensation control
• Extreme weather protection and longevity.
"I love my two-seat, full-thermal Otter," says ICE FORCE pro-staffer Quintin Biermann, who fishes the windswept prairie lakes of South Dakota. "The noise elimination, combined with low condensation and heat retention will make you happy to have one too."
The XT650's dual-layer 650 denier shell with full thermal top eliminates black-out interior coating, provides better wear resistance, locks in heat, and significantly reduces overhead condensation, allowing for a more comfortable fishing experience.
Both the Pro XT1200 [Product 'Pro%20XT1200%20Shelter%20Package' not found!] and XT650 [Product 'XT650%20Shelter%20Package' not found!] feature interior draft skirts and extra-long perimeter skirting to deliver unbelievable insulation, complemented by crack-resistant windows equipped with insulated covers to keep out unwanted drafts or let in light on warmer, sunny days.
"Designed with input from hard-water maniacs like myself, the new Otter Pro XT1200 and XT650 are the only shelters on the market that meet the standards of fanatical anglers who demand it all," says ICE FORCE pro staffer Brad Hawthorne. "These new ice houses marry out-of-this-world functionality with a level of comfort that promises to change the way we think about ice-fishing."
Crafted with the four S's — sled, structure, seating and shelter — in mind at all times, Otter's latest efforts come ready for the Ice Belt's frigid winter months with unmatched warmth, durability and a bevy of usable features.
"If you have aspirations of pulling your fish house with an ATV or snowmobile, there's really only one choice," says Ice Force Pro-Staffer Joel Nelson. "Over time, other brands will fail, especially in difficult conditions over punishing terrain. I've run an Otter since 2000, and have been happy with both the Cabin and Lodge as a two- and three-man house."
Pro XT1200 Sled & Seating
The Pro XT1200 Full Thermal Shelter features an exclusive cross-link seating system with multi-directional deluxe padded swivel bucket seats.
Built around the legendary, roto-molded Otter Pro Sled [Product 'Pro%20Sled' not found!], the Pro XT1200 is highly portable and features an oversized telescoping aluminum square tube frame that is sturdy enough to stand up to the fiercest blizzards the tundra has to offer.
Its flip-over design allows anglers to use this house in a variety of positions. Whether sitting or standing, the house provides plenty of head and legroom that fishermen and women will appreciate as they work over hard water.
Ready to deploy at a moment's notice and a cinch to tow, the Pro XT1200 boasts a custom trim-lock system that enables owners to attach the house to the sled in as little as 30 seconds.
This groundbreaking thermal shelter is available in four models: Pro XT1200 Ultra-Wide (one-person model); Pro XT1200 Cabin (two-person model); Pro XT1200 Lodge (two-to-three person model); and Pro XT1200 Resort (three-person model) for solo and party-fishing fun on the ice.
XT650 Sled & Seating
Each XT650 is built on an Otter single-piece, roto-molded poly sled and packed with high-quality features. The key to its toughness is it's heavy-duty, oversized square tube aluminum frame, integrated with anodized receiver tubes and an ultra-glide system that gives anglers a rugged shelter they will always depend on.
"After seven or eight years of fishing hard under all conditions, my Otter is still going strong and I would never switch to another brand," says Ice Force Pro-Staffer Will Roseberg, who calls Lake Mille Lacs his home ice.
As versatile as it is cozy, the XT650 is manufactured with a flip-over design that lets users set up the shelter in multiple positions and adapt to local weather conditions.
The shack's foam-padded bench seat presents owners with all-day comfort. Flip the seat up, and they can access gear from a convenient, built-in storage compartment.
Like the Pro XT1200 Series, the XT650 line offers incredible convenience. Each option has a custom trim-lock system that gives owners the ability to attach the house to the sled in less than one minute. Its molded-in hitch pockets seal the deal by making towing the sled to the perfect honey hole as easy as can be.
Anglers can select from a variety of models to suit their unique needs: the XT650 Cottage Ultra Wide (one-to-two person model); the XT650 Cabin (two-person model); and the XT650 Lodge (two-to-three-person).