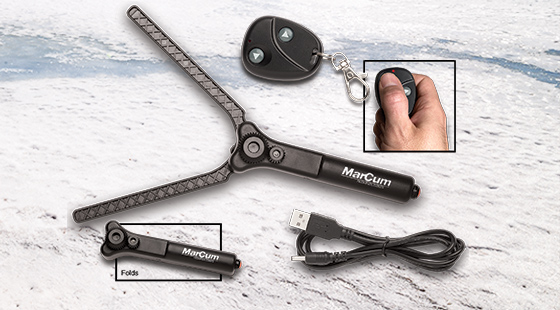 Americans have gone wireless everywhere else, why not on the ice? The new MarCum® Wireless Remote Camera Panner makes it easier than ever for ice aficionados to survey the situation below the ice for a smarter, more effective approach to landing winter Walleye, Pike and Panfish.
An easy-to-use tool, simply place MarCum's new Wireless Remote Camera Panner over any ice hole and — with a push of a button on a key fob — the device's fully integrated camera panner will scan a full panoramic 360 degrees from as far as 30 feet away. An internal rechargeable lithium battery offers up to eight hours of service between charges.
"No more wires or replacing batteries!" says ICE FORCE pro Brad Hawthorne. "MarCum's latest innovation — the Wireless Remote Camera Panner — builds upon a legacy of groundbreaking innovation to offer ice heads yet another state-of-the-art tool at a great value."
The MarCum Wireless Remote Camera Panner System comes equipped with key fob, fold-in legs for easy storage and travel. It also includes an internal rechargeable Lithium batters for 8 hours of service with a USB cable for charging.
For more information on MarCum Technologies, visit ICEFORCE.com. And, be sure to check out MarCum on Facebook at Facebook.com/MarCumTech for the latest tips and tricks to take your ice fishing game to the next level.