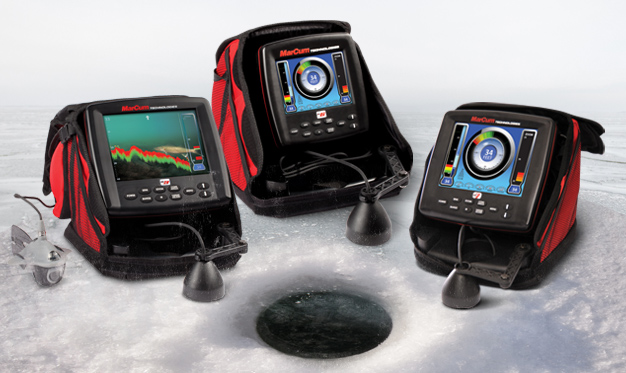 No matter where, when and how you ice fish, there's a MarCum sonar unit to fit your angling style and meet your needs.
"With all of the options we have, it can be a little bit confusing to figure out 'What's right for me? Which one do I want?'" acknowledges Joel Nelson, an ICE FORCE pro-staffer and TV personality on In-Depth Outdoors on the Fox Sports North channel.
"But there is a unit that will be almost custom-tailored to the way you want it get it done out there on the ice."
Nelson's recommendations follow.
LX-6 & LX-7 – Digital Multi-Species Angling In The Modern Age
Multi-species anglers in the modern age of ice fishing have embraced MarCum's digital LX-6 and LX-7 sonar units. More than "flashers," these units give anglers multiple display options – water-column vertical, vertical zoom, flasher-dial and traditional horizontal LCD graph.
"Whether you're fishing the LX-6 [Product 'LX-6' not found!] or the LX-7 [Product 'LX-7' not found!], the digital flat-screen display and the menu system allows you to switch it however you want to look at it," Nelson explains. "If you are used to looking at an open-water graph mode and like the tracks and trails you can see from the bait and the fish, go ahead and do it that way. For those that like that vertical pixel-graph look to the display, you can have the equivalent of a color Showdown."
Both the LX-7 and LX-6 feature Infinitely Adjustable Zoom and Bottom Lock Zoom, a 12-level Interference Rejection system and razor-thin target separation.
"The better your sonar's target separation, the better you can tell difference between a fish that's about to strike your bait, and a fish that's already got your bait in its mouth," Nelson explains.
Each unit also features Sonar Footprint technology, which displays an area at any depth, with either 8-degree or 20-degree transducer cone angles. "This provides a keen awareness of fish targets relative to the transducer and your lure," Nelson explains.
Nelson runs an LX-7, which differs from the LX-6 only in screen size and upgradability. MarCum releases free firmware updates for the LX-7 that you can install in minutes from home. MarCum is the only ice-fishing electronics manufacturer that makes digital units that can be upgraded in this way.
"As more technology comes available to MarCum, as new software and methodology for harnessing the full power and range of the sonar become available, we're able to upgrade it and put it inside a unit," Nelson explains.
Anglers that prize value and weight will love the LX-6. "If you're a hole hopper and price point is a priority, the LX-6 is your unit," Nelson says, noting that the LX-6 delivers almost everything the LX-7 does, for about $100 less.
LX-9 – "Like a JumboTron for your permanent ice house"
MarCum's top-of-the-line unit, the digital LX-9 [Product 'LX-9' not found!] is the "perfect choice" for anglers that fish out of permanent, hard-side ice houses with all the amenities, like big-screen TVs.
That's because the LX-9 can simultaneously display live underwater footage and sonar returns and output that to your ice-house's big-screen TV.
"It's like a JumboTron for your permanent ice house!" Nelson says. "Complete with instant replay."
A built-in DVR provides screen recording and instant on-screen playback. It can record also to a separate SD card, or via video-out. "You can capture underwater fish-catch footage and output it immediately to your big-screen to show your buddies," Nelson says. "A big-fish highlight reel!"
While the LX-9 screen is big at 8 inches, viewing sonar and underwater footage on a 50-inch big-screen makes the display massive, and visible anywhere inside even the largest, most expansive ice house.
Anglers that fish in wide variety of water clarities like having their sonar unit and underwater camera within one tidy package.
"There are a lot of bites out there that – especially in clear water – where without the camera, it's the difference between catching and not catching," Nelson says. "That's about as good a reason to go ahead and pick up the combo package in the LX-9 for the best of both worlds."
Like all top-end MarCum units, the LX-9 features razor-thin target separation, Infinitely Adjustable Zoom and Bottom Lock Zoom and a 12-level Interference Rejection system. Its sonar engine is driven by  4800-watts PtP with a switchable Dual Beam (8 degree and 20 degree) transducer.
The centerpiece of the LX-9's underwater viewing system is a Sony Super HAD II CCD camera. Advanced light sensitive optics deliver the sharpest, cleanest color picture available, while Darkwater L E D Light Technology illuminates the viewing area in dark and dirty water.
LX-5 & LX-3: Flashers To Find Fish On Bottom And Suspending
The LX-5 and LX-3tc appeal to "just about anybody that grew up fishing with a flasher," Nelson says. The technology that powers them is still MarCum's "hallmark," he adds.
The LX-5's precision-tuned dual-beam transducer allows you to switch between 8-degree and 20-degree cone angles for both deep and shallow water use. Moveable Zoom allows you to home-in on any segment of the water column. Industry-best interference rejection system knocks out competing "noise" from nearby sonar units, so you can fish in a group with no problems.
"When MarCum released the LX-5 [Product 'LX-5' not found!], it completely redefined the features and performance an angler could expect from their ice electronics," Nelson says. "And the fact that it's still one of the preferred units by many, many ice fishermen out there, speaks volumes about how good that technology really is."
Still the most advanced mechanical flasher ever built, the LX-5 offers dazzlingly bright and crisp color images of the bottom, vegetation, fish, baitfish and your lure, all displayed with the highest resolution available. Its Super Fine Line display allows you to determine a fish's mood and adjust your jigging stroke accordingly.
"You will see separation between the crisp line that's your bait and the clear line that's the fish," Nelson explains. "If the fish moves back closer to your bait, you're doing the right thing!"
The LX-3tc [Product 'LX-3TC' not found!] and LX-5 are very similar units, Nelson says. "And the feature they have that really no other competitor has – or does as well – is the fully adjustable zoom anywhere in the water column. … Being able to adjust the zoom window anywhere in the water column is a very nice feature."
Especially when fish are suspending, rather than hugging bottom.
"A lot of times, crappies in the winter will suspend in 40, 50 feet of water, half-way between the ice and the lake bottom," Nelson explains. "So bottom-six-foot-zoom doesn't do you much good. However, if you can zoom in on the middle five- or ten-foot portion of the water column, you can literally see, by the thickness of the targets of the returns, where the bigger crappies in the school are sitting and what part of the water column to target to catch those bigger fish."
When you compare all the specs of the LX-3 to other flashers in its value class, it beats them in all categories.
VX1-P – Entry-Level Price, High-End Features
Newcomers to ice fishing often start with entry-level units. But to call MarCum's VX1-P [Product 'VX-1P' not found!] entry-level is "kind of a misnomer," Nelson says. "Because when you compare it to the entry-level competitor flashers, it really blows away the competition."
Indeed, the VX1-P's entry-level price tag doesn't mean it's short on high-end features. "It offers many, many more features at the $300 price point than just about anything does," Nelson says.
Boasting 1,000 watts, the VX1-P is a fish-finding powerhouse. Capable of producing incredible detail, it will help you fish tiny jigs in deep water and find fish hiding in thick cover. A multi-level interference rejection system cleans up stray signals from nearby electronics.
The VX1-P's bottom lock zoom will focus in on the bottom five or ten feet of the water column. Few competing entry -level flashers offer zoom functionality.
"You can zoom in on the bottom and check out bottom-hugging walleyes or bluegills tight to cover," Nelson explains. "It also has the best target separation in its class.