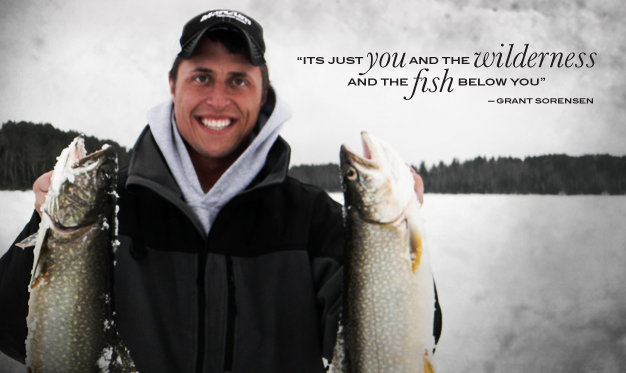 Like the St. Louis River he grew up fishing, Grant Sorensen is strong, spontaneous and a little untamed.
"I guess I've got an adventurous personality," says Sorensen, 22, ICE FORCE's youngest pro-staffer. "I have the ability to do what I want to do and go where I want to go, so I take a lot of spontaneous, spur-of-the-moment trips."
Like three-hour treks by foot into Minnesota's remote Boundary Waters Canoe Area (BWCA) to ice huge lake trout.
"I've got the desire and endurance to pull an ice house into remote areas where other people wouldn't go and find fish," he says. "It's just you and the wilderness and the fish beneath you. You'll see a cross-country skier coming through every now and again, but that's pretty much it."
A Duluth, MN, native, Sorensen grew up fishing area lakes and reservoirs. Soon, he took his skills further afield to the BWCA, Lake Superior and the St Louis River.
"Every year, I'm the first guy out on the river, checking ice and looking for a safe route to my favorite early-ice spots," he says.
Fishing frozen rivers, among Sorensen's specialties, requires specialized skills and extraordinary caution.
"Everything about a river is changing conditions," he says. "With the St. Louis being next to the largest lake in the world, there's tides, there's severe weather patterns, there's huge currents. If we get a big wind and have big waves on the lake, we'll see the effects from those waves three miles up the river. When you have 14, 15-foot waves on the lake, the ice will literally be bouncing way up river."
Ice fishing on Lake Superior presents unique challenges as well.
"You've got ships going through – Coast Guard cutters breaking ice" he says. "The ice breakers keep you on your toes and definitely present a set of challenges you don't run into on many bodies of water. If the cutters are working in your general direction, the day's over. Time to head for the safety of solid ground."
And Lake Superior ice conditions are "never good," he says. "They can be okay, but they're never good."
Despite such challenges, Sorensen wouldn't have it any other way.
"It's tough work getting out there and finding untapped ice, but when I do, it's worth it," he says. "I'm a big-fish guy. That's why I fish how, and where, I do. You always have the potential for a huge, 30-pound fish."
His favorite quarry is lake trout.
"They're not a common fish," he says. "They're kind of special – you can only find them in certain places."
Much like Sorensen himself.
Follow his adventures on Facebook at Grant Sorensen Fishing and on TV on the Fox Sports North show "In-Depth Outdoors."