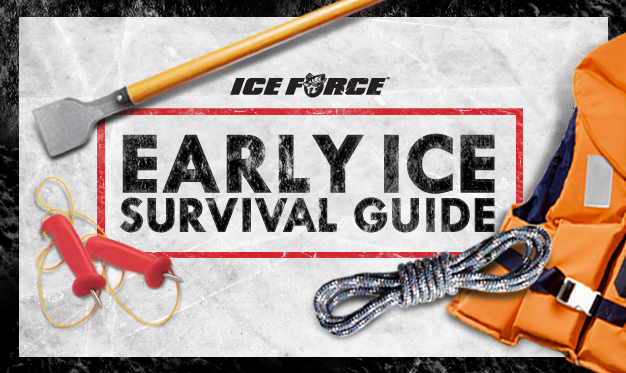 Open-water fishermen follow the calendar – Opener is the same Saturday every spring; shallow smallies on rocks by mid-June; big walleyes on steep drops in late August. But safety concerns can prevent ice anglers from fishing the same spots at the same time, one winter to the next.
"Most years, the ice fishing season starts the day after Thanksgiving and by Christmas you can drive vehicles to your favorite spots – but this year isn't like most years," says ICE FORCE Pro-Staffer James Holst. "And if you approach ice safety by the calendar – assuming you'll be able to get out on your favorite lake because you've been able to do it the last handful of years on the same date – you could be heading for trouble."
Unseasonably warm winter weather across the Ice Belt has set back the usual ice fishing schedule, as ice remains thin on many popular destination lakes. And while the early ice season is many anglers' favorite time of year, as it often offers some of the best fishing, the lure of beating the crowds to a favorite spot should never get in the way of putting safety first.
"It's natural to be excited, to want to grab those ice houses and start towing to the spot you want to get to," says Holst who, as host of In-Depth Outdoors TV, has filmed several shows in which he demonstrates safe tactics for fishing early ice. "Early ice, you need to hold back a little bit."
ICE FORCE Pro-Staffer and fellow In-Depth Outdoors TV personality Will Roseberg agrees. Although he likes to be one of the first guys out on Mille Lacs, his favorite ice-fishing lake, "I wouldn't even think about heading out to fish before properly checking the safety of the ice first."
Many anglers follow a similar routine to determine ice safety. Roseberg shared these tips:
Buddy System
Always bring a friend to watch from shore, or at least from safe distance back, just in case you do break through.
PFD
Never set foot on any new ice without wearing a PFD or life vest. If you do break through, this will prevent you from going underwater and possibly getting stuck under the ice. Just having your buddy walking behind you with a throwable flotation device is not good enough.
Ice Picks
Always carry ice picks. I wear mine around my neck to make sure they're easily accessible.
Ice Chisel
The first time I walk out, I carry nothing more than an ice chisel, also called a spud bar. Use the ice chisel to continually check ice thickness by giving it a solid thrust in front of you prior to every step. If the ice cracks, or the chisel goes through, the ice needs more time for cold weather to work its magic.
Gear on Shore
Leaving your gear on shore during your first walk out. This cuts down on weight and allows you move quietly. Any noise made by pulling a sled could prevent you from hearing the warning signs if ice starts to crack.
Distribute Your Weight
If the ice does begin to crack, quickly get down on your hands and knees – or even lay down on the ice – to distribute your weight. Then slowly crawl back in the direction you've just come.
Rope
Have your buddy carry a 100-foot rope, just in case all of the above precautions fail and you end up in the water.