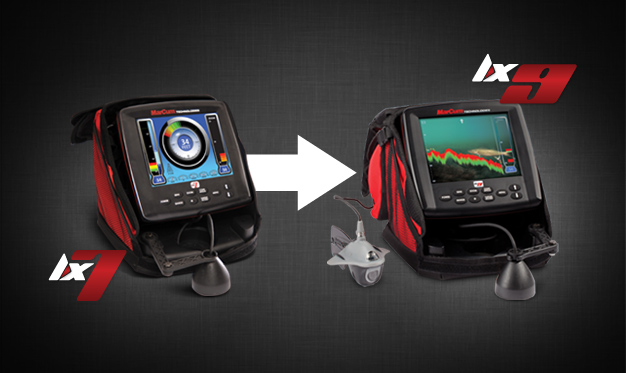 Just as you can easily upload updates to your cell phone and apps, you can now upgrade firmware for your digital MarCum fish finders.
"All MarCum digital sonar units will provide a Future Proof upgrade path that will allow owners of existing units to upgrade their units to include new features and functionality," says MarCum Brand Manager Jon Marshall.
When MarCum released the innovative LX-7 in 2012, it did more than create a new breed of ice electronics built on an all-digital platform capable of displaying real-time color sonar signals on a vivid 8-inch display. MarCum also introduced a new concept to the world of ice electronics – a steadfast commitment to ensure all digital sonar units will be "future proof."
"Future Proof is a simple concept that represents MarCum's deep commitment to our customers," Marshall explains. "It's a commitment that promises no digital unit will ever be rendered obsolete or outdated simply because a newer unit is released later."
He anticipates firmware updates for MarCum's newest model, the LX-9, as well as the LX-6 and LX-7.
"In every part of our life, technology is moving faster and faster, and getting better and better," he says. "We moved to the digital platform so we can empower our customers to keep up to date with our latest innovations."
MarCum is the only ice-fishing electronics manufacturer that makes any kind of unit that can be upgraded, longtime MarCum Pro-Staffer James Holst notes. "They're allowing a path of migration from what was once new to what is now new."
And that includes more than firmware upgrades. Digital technology allows MarCum to convert an LX-7 into an LX-9, MarCum's jaw-dropping new sonar/camera/DVR system. The LX-9 makes it possible, for the first time ever, for ice anglers to view fish, structure and cover through a diversity of underwater eyes – digital sonar and underwater video camera combined into a single high-tech portable device.
"For those that bought the LX-7 last year, we don't want to leave them behind, so we're making available what we're doing with the latest and greatest with the LX-9," Marshall says.
Beginning the first week in January, MarCum will upgrade LX-7's into LX-9's for $499.99 (a new LX-9 costs $1,199.99). This conversion, however, is more involved than simply downloading and installing new firmware.
"There are hardware and other components involved, so we'll do those upgrades here in our laboratory," Marshall says. Customers interested in the LX-7 to LX-9 conversion can find more information at marcumtech.com.
"Giving customers the ability to upgrade is something that we have a long history of doing and will continue to do into the future, as we build up the digital platform," Marshall says.