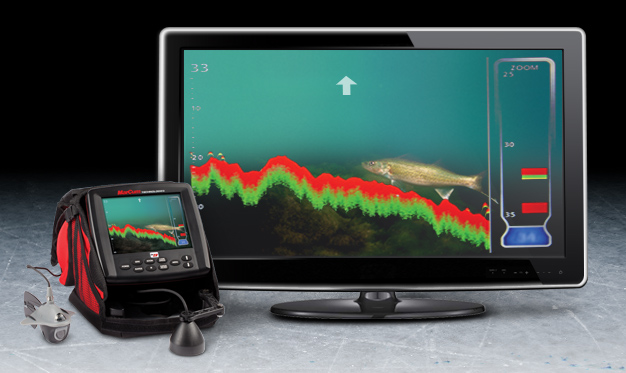 The shanties of yesterday were little more than four walls and a floor, but have slowly evolved over time. In fact, ice fishing can take credit for the earliest appearance of what is known today as a "man cave." While it all started with the first wood stove in a tar-paper shanty, ice shacks today feature push-button retractable wheels, plush carpet and satellite TV.
And now you can outfit your mobile man cave with a MarCum LX-9 and watch what's happening below the ice on your big-screen and show off your big-fish instant replays.
"It's like a JumboTron for your permanent ice house!" says ICE FORCE Pro-Staffer Joel Nelson. "With its record and playback ability, the LX-9 lets you capture underwater fish-catch footage and output it immediately to your big-screen to show your buddies."
The LX-9 can also output to your big-screen live underwater footage and sonar display at the same time, so it can be seen by everyone in your shack.
"The LX-9 is the permanent ice house fisherman's dream unit," Nelson says. "Functioning almost like an entertainment center, it can do a nearly endless number of things no other ice electronics unit can do."
While the LX-9 screen is big at 8 inches, viewing sonar and underwater footage on a 50-inch big-screen makes the display massive, and visible anywhere inside even the largest, most expansive ice house.
"It's the ultimate accessory in a permanent ice house," says ICE FORCE Pro-Staffer Bryan "Beef" Sathre. "You can move around, play cards, whatever you like, and still be able to monitor what's going on under the ice."
And do so in two holes at the same time.
"The camera can monitor one hole, while the sonar monitors another," Beef says. "And it displays both signals on the same screen at the same time."
Display options include:
• Split screen – Underwater footage is shown on one side of the monitor, sonar display on the other side.
• Heads Up Display (HUD) – The sonar image is super-imposed over top of the underwater footage, making it possible for the angler to see both images at the same time on the same screen.
"No other ice electronics unit can do any of this," Nelson says. "And when you can see the results up on your ice house big-screen, it's all that more impressive."