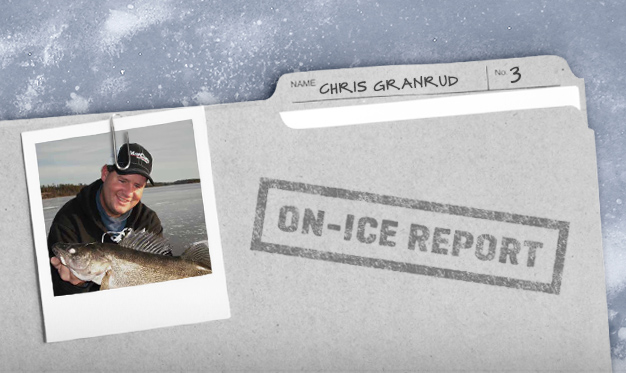 While others in the Ice Belt may be sitting out this sub-zero cold snap, ICE FORCE pro-staffer Chris Granrud has been out almost every day in one of Minnesota's most primitive areas, Rainy Lake.
And although this time of year can be one of the toughest to get bit, with cold front after cold front, low oxygen levels, short feeding windows and inactive fish, the RainyDaze Guide Service owner/operator contines to put clients on fish worth writing home about.
Walleye is king this time of year on Rainy. Granrud is finding them in 30 to 38 feet of water. They're biting best between 11 a.m. and 2 p.m.
"Rainy is a stained body of water, and you could imagine at nearly 40 feet deep, there isn't very much light," he says, explaining why the bite is best in the afternoon rather than in the usual ice-fishing "golden hour" at dusk. "You add a foot and a half of snow and it is dark during the 'golden hours' of the day. The same trend is being found all over the state."
Shoreline structure dictates Granrud's movement this time of year. The key on Rainy is to find the biggest structure possible, as smaller bars or humps are much less likely to hold numbers of fish. Low water levels in Rainy this year have brought flows down, he says, scattering fish and making it harder to get on high concentrations.
The low flows have taken neckdowns and other great flow-related spots out of Granrud's arsenal. Still, he's been able to keep on a good shoreline steep break pattern and has developed specific tactics to take giant walleyes.
Walleyes forage mainly on Rainy Lake's abundant supply of suspended cisco, making fishing for predators different there than on most lakes.
"Generally you will be fishing the bottom six feet of water, but out here the whole water column is game," Granrud says.
It's important to vary your presentations this time of year, as the fish could be looking for a quick snack or something big for the day's meal.
Granrud will tie on a #9 blue and silver jigging rap Jigging Rap® [Product 'Jigging%20Rap' not found!] on his jigging rod and set up a dead stick for his second line. The dead-stick rigging comprises 6 lb. Sufix® 100 percent fluorocarbon [Product 'Castable%20Invisiline%20100%20Fluorocarbon' not found!] and a split-shot clamped close to a single red hook baited with a small shiner.
"It's important that the split-shot be close to the shiner," he says. "If it's too high, the minnow will have too much room to roam, making it too much work for a big lethargic walleye."
Watch Your Electronics
If anything will set you apart from the people who catch fish on Rainy and the people who don't, it's watching your electronics and knowing what to look for.
When a walleye comes through the cone of Granrud's MarCum LX-6 [Product 'LX-6' not found!], suspended 10 feet under his hole, the transducer cone is so small the fish could be gone, headed the other direction, before he even gets his jig up for the fish to see it. So he watches intently to avoid missing any action.
"Above all else, be prepared to get your bait up to the fish before he gets out of Dodge!" he advises.
Setting his LX-6 on 6-color mode, Granrud studies his sonar screen, looking for the slightest change in direction of a walleye.
When a red mark indicating a walleye pops up on his display, a green mark will appear on the top of the blip if the fish is swimming up in the water column, a green mark will appear on the bottom of the blip if the fish is swimming down.
"This is vital," Granrud says. "I will try to time my movements to the mood of the fish. When the fish is moving up, I will time the rise of my jig so the fish has no chance, and is triggered into eating. If the fish is negative and headed down, I will hold very still and try to get the fish to slow its descent and come back up to chow down."
If you plan to head to the wilderness of Rainy Lake, Granrud says, attention to little details will make you more successful.
"In December you can come to Rainy and get away with a lot of mistakes, because the fish are so aggressive," he says. "But they might not give you a second chance in January and February!"
Rainy Lake boasts about 230,000 acres, so finding a piece of uninhabited structure shouldn't be very difficult.
"It's a fun lake," he says. "Fishing in the middle of nowhere with nobody around for two miles or more is something special!"
And with his fully insulated Otter Pro Resort, Granrud is able to fish in even the most brutal conditions.