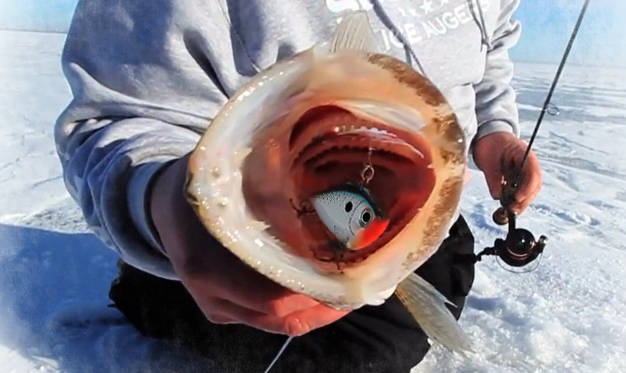 With the Vikings vanquished and the Packers sent packing, focus shifts from football to fishing in much of the Ice Belt this week. But MVP anglers will borrow a page from the NFL playbook and score big going deep.
Targeting walleyes or wide receivers, hooking up deep requires both brute strength and a delicate touch. No surprise then that ICE FORCE Pro-Staffer Brad Hawthorne – as strong as a lineman, as canny as a coach – has been getting on the board with a new technique designed to overcome fishing's fourth-and-long scenarios.
"Even in cold-front conditions, you're still going to catch fish with this technique," says Hawthorne, host of the web-TV show Hooked On The Ice."It's amazing."
Hawthorne's go-big-or-go-home play features a Rapala Rippin' Rap, which he drops over hard-bottom areas, first giving the bait "three big rips," and then shaking it in place ever so slightly. Muscle and finesse.
The initial rips, "call the fish in," Hawthorne says. The subtle shaking triggers them to bite. The correct stroke is slight so it does not rattle the otherwise noisy bait.
"That's the whole key, he says. 'I know it sounds weird, but you're actually trying to keep it from rattling, and if you are rattling it … you want it to be ever so soft."
Hawthorne developed the tactic on Mille Lacs, but has iced big walleyes with Rippin' Raps on Upper Red Lake and Lake of the Woods as well. Bright bait patterns, like firetiger, have been effective on Upper Red and Lake of the Woods, but natural colors are working best on Mille Lacs – silver, mossback shiner, blue chrome.
"You're trying to imitate that baitfish, that shiner, that ciscoe," Hawthorne says.
"You'll know when you don't have the right color on," he says. "You'll do everything right and these fish will actually come up and bump the lure with their mouth closed if you don't have the right color. I know it sounds crazy, but they do that, just like a pike will when he's checking out an underwater camera.
"So if you get that happening, one time, yeah, you might have missed him; two times, you need to change up color. Because that fish isn't opening up his mouth. He's bumping that lure because he doesn't know what it is."
While this is a mid-day, deep-water tactic, Hawthorne points out that "deep" is relative, from lake to the next. On Mille Lacs, he drops the Rippin' Rap in 28 feet or more, but on Upper Red Lake, only 12 to 14 feet. Red Lake's murkier water allows for a bit more vigorous jiggling. Mille Lacs, with its gin-clear water, requires the most finesse.
"If you do it wrong, you can scare fish on Mille Lacs, but if you do it right, you'll catch fish," he says. On Red Lake, he says, you can often shake your Rippin' Rap "like a baby rattle" and still get bit.
Rods, reel and rigging
For this technique, Hawthorne spools clear 6 lb. Sufix Ice Magic Mono on 32-inch, medium-heavy custom-built rod with a 1000-size reel. He favors a larger reel over a 500-size, he says, because the line comes off faster and the drag is stronger. "Remember, your're not targeting slot fish!" he says.
He doesn't tie his Rippin' Raps directly to his main line. Rather, he first cuts an 18-inch leader from the main line and ties it to a small swivel. "That's really key, or you'll mess up a whole spool of line with this tactic," he cautions.
He then ties his leader directly to a tiny quick clip, which he attaches not to the split ring on the Rippin' Rap, but to the keeper that the split ring is attached to. "You can leave the split ring on, you don't have to cut it off, but don't tie to it," he cautions. "If you do, the back end of the hook is going to come up and grab the line."
Hard-bottom areas
Key to Hawthorne's vertical Rippin' Rap technique is finding and targeting multiple hard-bottom areas – clam beds, zebra mussel beds, bedrock and hard clay. In such areas, he says, "fish lay down and actually sleep, and for the most part, remain undisturbed." Hence the technique's initial big rips, which "wake up" the walleyes and get their attention.
The hard-bottom spots Hawthorne has been fishing this winter he located in the summer and fall, but such spots are relatively easy for anglers to locate with maps and electronics.
"You can find these," he says. "You'll see one rising contour ring out in the middle of nowhere – and you can use your GPS to zoom in – more than likely, that is an older hard spot that's been built up with shells and things."
Hard-bottom spots on Mille Lacs "are no secret," he says, noting that many anglers fish them in the middle of the summer when the bite gets tough.
Hawthorne targets several of these spots a day, drilling 40 to 50 holes per location in an oval or circular pattern out from the center of his GPS coordinate. When fishing with one or two other anglers, he suggests spreading out.
"You don't want to have two guys fishing within five feet of each other, you want to be spread out pretty good – 20 to 100 feet," he advises.
Results vary from lake to lake and day to day, but generally a trio of anglers fishing the pattern can expect to ice 15 to 25 big fish per outing, Hawthorne says. "And that doesn't include any slot fish," he says. "This is a big-fish bait – 20 to 28 ½ inchers."
Watch Brad Hawthorne and his Hooked On The Ice crew ice big walleyes on Rippin' Raps here