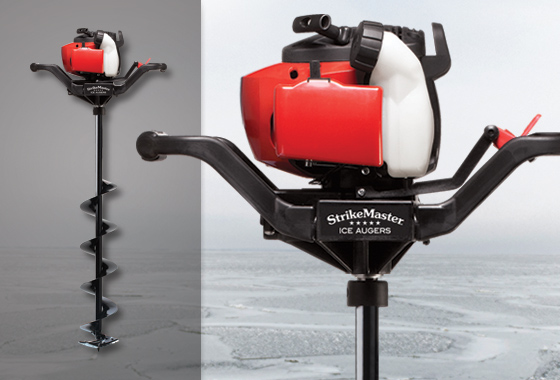 Providing power and portability in a fast-cutting, compact package, the new StrikeMaster® Lazer™ Lite 6-inch auger will keep ice anglers on the prowl without slowing 'em down.
"Built on a premier small-engine platform, this two-stroke, 6-inch auger runs smooth, clean and quiet, with speed that defies its compact size," says ICE FORCE pro Dave Koonce, an on-camera contributor to "In-Depth Outdoors" on the Fox Sports North Channel.
Powered by an economical 2-stroke, 32cc, 1.5-horsepower Solo® motor with a two-year warranty, the Lazer Lite's fast-cutting 6-inch Mora® twin stainless steel Lazer blades make quick work of hole punching when following schools of foraging fish.
When fish move, they don't have to pack. Ice anglers aren't so lucky. That's why StrikeMaster uses high-end materials to keep the weight of their augers significantly lighter than the competition.
Weighing in at a mere 21 pounds, the Lazer Lite features an American-made 40:1 transmission with heat-treated steel gears. Polymer gear casting yields lightweight power, and VANDAR long-filament, high-impact handles make for comfortable operation for anglers who spend long days on the ice.
When the snow flies this winter, equip yourself with a StrikeMaster Lazer Lite 6-inch auger. You'll drill more holes in less time with a StrikeMaster — the fastest, lightest, most powerful augers on the ice.
For more information on StrikeMaster Ice Augers, visit www.StrikeMaster.com. And, be sure to check out StrikeMaster on Facebook at Facebook.com/StrikeMaster-Ice-Augers for the latest tips and tricks to take your ice fishing game to the next level.