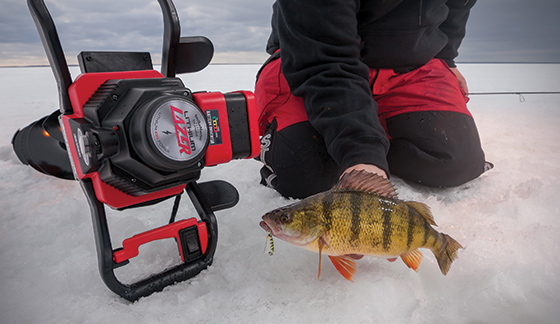 When your job is to help more than a dozen clients catch fish through the ice, you can't cut corners. But you can cut all the holes you need with a StrikeMaster Lithium Lazer™ — an electric auger.
In-demand Minnesota ice-fishing guide Brad Hawthorne has been using StrikeMaster's new Lithium Ion battery powered auger "exclusively" this winter on Upper Red Lake, he reports. "I haven't even fired up a gas auger," says the ICE FORCE® pro-staffer. "You know how nice it is to not have to rip and pull on an auger top to get it started when it's 30 below?"
On a busy day, Hawthorne will find fish for as many as 28 clients in 14 portable Otter ice shelters. In each shelter, at each location, he drills four holes — two per anglers for jigging and dead-sticking. Depending on the bite, he might move each shelter numerous times a day. Each relocation requires four new holes.
"If I have a full day, that's 14 portables, so that's 14 times four — and that's just to start the day," Hawthorne says. "And if somebody needs to be moved, I jump a house, go drill it again and move it. … I rarely have to move them all, but some days I may drill 60, 70, 80 holes."
And even with Upper Red Lake's ice measuring from 12 to 16 inches thick in the last couple weeks, 80 holes a day is no problem for the StrikeMaster Lithium Lazer.
"You just turn it on and it goes," Hawthorne says. "And the power is consistent. It sinks through the ice and it carries the same torque from the start of the hole to the finish of the hole. And it doesn't bog down at the bottom of the hole in water-logged ice either. It powers right through that — it doesn't stop."
Harnessing the most modern technology available, StrikeMaster's Lithium Lazer auger can cut an impressive 56 holes through two feet of ice on a single charge. Other Lithium Ion-powered augers boast only 40 holes in 24 inches of ice.
"I can snap a battery on it and drill my holes and there's no worry, no hesitation," Hawthorne says. "I know that if that battery's charged, I don't have to worry about anything else."
With a removable 50-volt Lithium Ion battery under the hood, the Lithium Lazer provides consistent speed and torque from hole to hole without reduced power or slow-down from waning battery. Featuring an on-board indicator for easy battery-level checks, it comes with a fast-charging, two-amp battery charger.
Hawthorne can charge his battery back to full power in just under two hours. "That is really convenient," he notes. "It's so convenient, I don't know if I could go back to gas!"
Convenience & Cost Savings
The convenience factor is amplified when you factor in weather. When working with a gas-powered auger, you generally drill your holes before you set up your portable shelter, standing outside, exposed to the elements. But because an electric auger creates no exhaust, it's no bother to drill inside your shelter, out of the breeze and freeze.
"When it's really, really windy out, I can set up the Otter portable, I can drill four holes in it and scoop 'em out the door with the wind at my back," Hawthorne explains. "It just makes my job a lot easier."
Drilling inside with a Lithium Lazer is also easier on your portable shelter's walls, seats, zippers and other components. "To be able to drill inside the Otters when they're set up without having to worry about oil and gas spraying all over is absolutely huge," Hawthorne says.
Additionally, Hawthorne doesn't have to spend money on auger gas or worry about replacing tackle bags or rod cases — or their contents — that gas has spilled on. "That's a huge deal," he says. "If you add it up, by the end of the season, I'm saving money. Practically to the point where the auger's paying for itself."
No half-pint trick pony, the Lithium Lazer is a bonafide workhorse — a true, full-size drill. Because you won't have to hunch over when you punch holes, you won't get a sore back using it and you won't need an auger extension for normal operation.
VANDAR long-filament high-impact handles make for comfortable operation for anglers who spend long days on the ice. An over-sized throttle makes the Lithium Lazer easy to operate with gloves on.
Accessories & Replacement Parts
Built on a proven StrikeMaster American-made 25:1 transmission with heat-treated steel gears and polymer gear castings, the Lithium Lazer delivers maximum efficiency with a lighter weight than ever before. When fitted with twin 8-inch, Swedish-made Mora stainless steel Lazer blades, the Lithium Lazer weighs in at only 24 pounds.
"It's got the same design transmission as the rest of the auger line — essentially, they just took the gas powerhead off and put a lithium powerhead on it," Hawthorne explains. "So all my bits from my gas-powered StrikeMaster auger are interchangeable. If I want a pike hole, I can go up to my 8-inch bit instead of my 7-inch."
Accessories or replacement parts could be hard to find or inconvenient to order for any other battery-powered auger, but not for a StrikeMaster Lithium Lazer.
"There's no 'special parts' on that auger, so I don't need to worry about finding replacement blades or anything," Hawthorne explains. "StrikeMaster's 8-inch blade is the most common blade found anywhere. I can find it at gas stations up here, and pretty much any sporting goods store in the Ice Belt — from the smallest bait shop to the biggest retailer. If I happen to lose a bit, anything like that, I can find those parts.
"It's a comfort knowing that if I go to Lake of the Woods and I need a set of blades, I can get them; if I go to southern Minnesota or North or South Dakota, those parts are going to be there," Hawthorne continues.
A limited three-year warranty on the motor and a limited one-year warranty on the battery provide additional piece of mind.