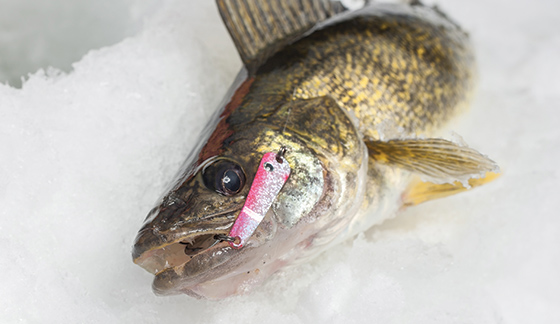 For every great destination lake in the Ice Belt, there's a few go-to baits and tactics that produce fish every winter. Following are several ICE FORCE® pro-staffers' picks for their favorite frozen lakes.
Mille Lacs Lake, MN
ICE FORCE pro-staffer and in-demand Mille Lacs fishing guide Tony Roach favors large Rapala® Jigging Raps®– up to size 7 – noting that many anglers "overlook the larger sizes." But when he's in "full blown ice trolling mode," he says, he likes the larger size.
"Drop it down, pound the silt, lift it up," he instructs. "You're trying to get a reaction strike and see what kind of fish you've got in the area."
Rapala's new No. 4-size Ultra Light Rippin Rap® is also a "great fish-catching tool on Mille Lacs," Roach says.
In daylight hours, Roach favors natural color patterns for his Jigging Raps and Rippin' Raps. Blue Chrome, Silver and Perch are among his favorites. In low-light conditions, he swears by glow and UV color patterns. "That UV, it's like a beacon in the night," he says.
Upper Red Lake, MN
Whether you're targeting eaters or big fish on Upper Red Lake, try tipping a VMC® Tumbler Spoon with a live minnow. Glow Red Shiner is a good color.
"My all-time favorite spoon in the VMC line-up is, by far, the Tumbler Spoon," says ICE FORCE pro-staffer and Upper Red Lake guide Brad Hawthorne. "It looks plain until you put bait on that thing and send it down the hole."
While Hawthorne will sometimes rig a Tumbler Spoon with a minnow head, he'll often hook a live minnow through the head to get a unique action. "I can get it to do circles, it's amazing," he says. "By keeping that minnow hooked through the head, you're actually keeping it alive," he explains. Another trick is to drop the Tumbler-live minnow combo into the mud.
"If you get a fish [to appear on your flasher] and he's not responding to your jigging action, drop it right on the bottom," Hawthorne instructs. "When it falls right, that minnow goes head first into the mud and really freaks out. And the walleyes can't resist it. They can't not hit it. They may look at it for two or three minutes, but when it wiggles, there's no disconnect in that walleye's brain whether he should eat it or not."
Lake Bemidji, MN
As soon as he can step foot on Lake Bemidji, ICE FORCE Pro-Staffer and Fathead Guide Service Owner Bryan "Beef" Sathre will be hoofing to where he fished cabbage the last time he launched his boat before putting it into storage for the winter.
"I'll be throwing a Wax Tail Jig in 8 to 10 feet of water around that cabbage," Beef says. "The perch will be thick up there in the mornings and evenings."
One of his favorite Wax Tail colors on Lake Bemidji is Pink Chartreuse Glow.
For walleye, Beef will lace up a Rattle Spoon or a Tumbler Spoon, bouncing them on the bottom. "I won't have to move too far, because early-season ice up here, if you can still find green weeds, you're going to find fish," he says. "That's true on most of the lakes across the Ice Belt, I'm sure."
He favors the Glow Blue Shiner and Shiner color patterns for both spoons.
Leech Lake, MN
For early-ice Leech Lake walleye, Beef says, "deadsticking is phenomenal." As soon as he can safely reach deep-water humps, he'll deadstick a 1/16th oz. Tear Drop Jig tipped with a big, live shiner. "I try to keep the jig as small as I can so it doesn't reduce the action on the shiner and it can go crazy," he says.
With his deadstick rod set up over one hole, Beef will jig a Rattle Spoon tipped with a fathead minnow head in his second hole. "It's a pretty sweet spoon, because if you want to aggressively jig it and get that rattle going, you can, but you can be really subtle with it too," he says,
If he needs to call in early season walleyes from a distance, Beef will tie on a Tingler Spoon and bounce it off the bottom outside weeds on a transition area between sand and muck.
"If I can get in that muck a little bit, I use the Tingler Spoon to stir up the bottom," he explains. "Then I'll lift it up and the fish will come through all the stuff that's stirred up – and that's when it's game time."
Beef favors the Glow Blue Shiner and Shiner color patterns on Leech Lake as well.
Lake Of The Woods, MN
ICE FORCE pro-staffer and In-Depth Outdoors TV Host James Holst has found both big and eater-size walleyes plentiful in trips to Lake of the Woods in recent years.
Holst and his co-hosts have had success calling in walleyes from a distance with a technique that elicits vibration, flash and sound – lift up the bait slowly and then drop the rod tip to get an enticing shake and wobble. Rapala Rippin' Raps work great with this technique. Gold Chrome is a good color.
Fish your Rippin' Rap higher than you're probably used to. This technique is most effective two to five feet off the bottom. This allows bigger walleyes to ambush the bait from below. Although Holst targets big fish with this technique, he says you'll also catch all the eaters you want with it.
Lake Winnibigoshish, MN
ICE FORCE pro-staffer and Freshwater Fishing Hall of Fame Legendary Guide Tom Neustrom targets Winnie walleyes with Jigging Raps and VMC Tumbler, Tingler and Rattle Spoons.
Early in the season, Neustrom's go-to Jigging Rap size is No. 7, but if he's fishing in really deep water, he'll upsize to a No. 9. He fishes Jigging Raps on a 24- to 30-inch, 6-pound-test Sufix® InvisiLine™ Ice 100% Fluorocarbon Leader connected via a small barrel swivel to a 10-pound main line.
"You've got to have that barrel swivel, because the bait swings around and you'll get line twist without it," Neustrom explains.
He usually ties direct, but will sometimes connect with the smallest clip he can find, so he can change colors and sizes quickly.
The Tingler Spoon is one of Neustrom's go-to baits when he's fishing in 20 feet or less. "It's got a really nice slow drop," he says. "It swings around a little bit and kind of flutters as it goes down. A lot times, I've dropped that on fish and they'll come up and whack it before it ever gets to the bottom. They'll come after it."
Neustrom likes the Tumbler Spoon for its unique, "swing drop" and the additional flash provided by a small, metallic attractor blade. "I think that little flicker in the back helps sometimes," he says.
Walleyes suspended off the bottom will often hit the Tumbler Spoon on the drop, before it hits the bottom. "They'll come up and just rap that thing," Neustrom says. He fishes it in slightly deeper water than he does the Tingler.
"As soon as I drop it down to [a fish], I'll lift it about a foot and a half to two feet, bring it back down, bring it up, bring it back down, and then I'll sit there with it and I'll just jiggle it and shake it and shake it until he bites it," he says.
In 18 to 25 feet, Neustrom can call in walleyes from 10 to 12 feet away with a Rattle Spoon. "I drop it to the bottom, raise a little mud swirl and do a really nervous thing with the spoon to get those rattles going," he explains.