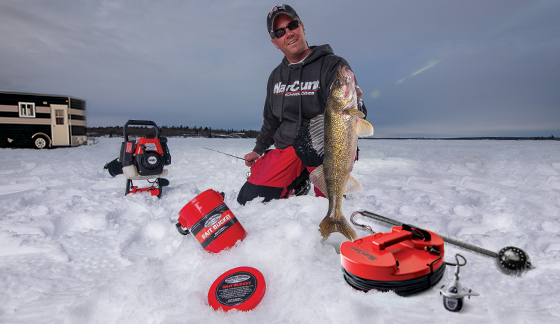 Want to equip your wheel house as well your home? Consult Bryan "Beef" Sathre. Few are as qualified to comment — he's a fishing guide and pro-staffer for both ICE FORCE™ and wheelhouse builder Glacier Ice Houses.
"Yeah, I guess that gives me a pretty unique insight into the must-have toys and tools that make for a successful wheel-house set-up," Beef says. "I know what works for me, and I hear a lot about what other anglers like too, be it from guide clients or visitors at ice shows."
As a result, a lot of thought went into this, Beef's wheel-house must-have list:
• StrikeMaster Lithium Lazer Auger
• MarCum PanCam
• Rapala Magnetic Tool Holder Combo
• StrikeMaster Bait Bucket
• Rapala Retractable Mega Scoop
• Rapala Tournament Ruler
• Rapala Fish Counter
StrikeMaster® Lithium Lazer Auger
Harnessing the most modern technology available, the new StrikeMaster Lithium Lazer auger can cut an amazing 56 holes through two feet of ice on a single charge. Other Lithium Ion augers boast 40 holes in 24 inches of ice.
"It's really revolutionizing what people expect from a battery-powered auger," Beef says. "It's so powerful, but so light."
With a removable 50-volt Lithium Ion battery under the hood, the Lithium Lazer provides consistent speed and torque from hole to hole without reduced power or slow-down from waning battery. Providing clean, quick, efficient power, the Lithium Lazer is the perfect choice for permanent houses, wheel houses and general use.
"You can cut quickly through thick ice and crusty holes with absolutely no emissions," Beef says. "And you can store it in a closet in your wheelhouse and not even know it's there, unlike a typical auger, where you're smelling gas. And if you want to run out and drill some tip-up holes, it's always ready to go."
Built on StrikeMaster's proven 25:1 transmission with heat-treated steel gears and polymer gear casting, the Lithium Lazer delivers maximum efficiency in a light-weight package. Fitted with twin 8-inch, Swedish-made Mora stainless steel Lazer blades, it weighs in at only 24 pounds.
Featuring an on-board indicator for easy battery-level checks, the Lithium Lazer comes with a fast-charging, two-hour, two-amp battery charger. "That means going from completely dead to completely charged in just two hours," Beef explains. "That's huge."
MarCum® PanCam
With MarCum's innovative new PanCam system, a wheel house anglers can fish the hole at his feet and see a live feed on his phone or tablet from an underwater camera in either that hard-to-access hole in the corner or from a hole as many as 300 feet away from his house.
"There's a lot of wheel houses that have one hole that's in a really inconvenient place, like in front of a stove or in a bathroom or somewhere," Beef explains. "That is the ultimate spot for the PanCam, because it's so low profile, you can drill the hole, put the camera down and then put your hole cover back on and not have to worry about kids falling in the hole or you tripping over it. There's no cords! It's a great, great asset."
Re-defining the term "hot spot," The PanCam system uses a free, downloadable app to turn every fishing hole into a wi-fi hotspot, using your phone to transmit a live video stream from your underwater camera to the palm of your hand. You can network multiple cameras to one phone or tablet, and multiple anglers in a group can access the camera's live feed with their phones.
Paired with the PanCam Panner, MarCum's free app turns any iOS or Android smartphone or tablet into both a camera monitor and a remote control – change camera direction, adjust lighting, and transform your device into a digital video recorder capable of capturing underwater video and still images.
"That allows you to drop a PanCam in a tip-up hole outside your house and broadcast it back for everyone to monitor," Beef says. "If you have a wheel house with a smart TV, you can broadcast a live feed from your hole up to the widescreen. I run multiples PanCams — one to the TV and another one to my phone or tablet."
Because it works with almost any modern underwater camera of any make, MarCum's PanCam device can be purchased with or without a camera.
Rapala® Magnetic Tool Holder
In "key locations" all over his wheel house, Beef mounts Rapala Magnetic Tool Holders stocked with Rapala Stainless Steel Pliers, Rapala Super Line Scissors and 4-inch Rapala Hook Files.
"You've got to have those in your fish house," he says. "They're always nearby, so I never have to worry about finding my tacklebox. My go-to tools are mounted right next where I'm fishing."
More than just one tool, Rapala's Stainless Steel Pliers is packed with features, including a side-cutter for cutting thin-wire leaders and hooks, a lure-tuning tool and a split-shot crimper. Additionally, the nose features a split-ring tool for making fast work of changing out hooks in the field.
Soft grip handles add comfort and a slip-proof grip. Leaf-spring engineering allows one-handed operation. An adjustable hand lanyard will keep them secure. They're available in 6 ½ and 8 ½ inches.

Designed with a sharp, serrated, stainless steel cutting edge and oversized finger and thumb holes, Rapala's Super Line Scissors grip and hold braided line for easy non-slip cutting. Featuring an ultra- fine carbon-steel cutting edge, Rapala's 4-inch Hook File is double-sided and silicone-treated for corrosion-resistance.
Rapala Magnetic Tool Holders features a durable collar, magnetic backer and screws and high-strength bonding tape for easy installation. Tools must be purchased separately.
StrikeMaster® Bait Bucket
Beef keeps his bait fresh and alive with StrikeMaster Bait Buckets. Water-tight, insulated and refrigerator-safe, the buckets feature a removable handle and a rubber gasket in the lid for a splash-proof, air tight seal.
"I have two of them — one in the front of the house, one in the back of the house," Beef says. "They take up much less room than a big ol' five-gallon bucket full of bait."
The buckets measure five inches in diameter and seven inches deep. "You can run a few scoops of shiners in there, you can run waxies or Eurolarvae, any type of spikes," Beef says. "You have a lot of different options with the Bait Bucket."
Rapala® Retractable Mega Scoop
Designed to remove the maximum amount of slush from your holes with ease, Rapala's new Retractable Scoop features a handle that extends from 15 to 34 inches, eliminating the need to bend over. It comes with an adjustable wrist lanyard.
"It doesn't take up a lot of space, so you can set it in a corner or shelf, out of the way, and then when you need it, it's right there, good to go," Beef says.
Rapala® Tournament Ruler
In a mounting bracket on the wall above the door in Beef's wheelhouse is a Rapala Tournament Ruler.
"That's another must-have for a wheelhouse," he says. "It's nice to always have a ruler nearby to know the size of your fish."
Features of the Tournament Ruler include easy-to-read numbers, inch and centimeter measurements. They come in 21-, 40- and 60-inch version. The 60-inch ruler folds for easier storage.
Rapala® Fish Counter
Easily and conveniently keep track or your daily catch with an easy-to-use Rapala Fish Counter. You can use it to get totals for the day, your whole trip or the whole group.
"Kids love to keep track of perch and bluegills and crappies, so that's a great thing to keep in a wheel house," Beef says.
The Fish Counter features a four-figure register and automatic-reset button. It's compact design includes a fixed loop to hang it from your belt.