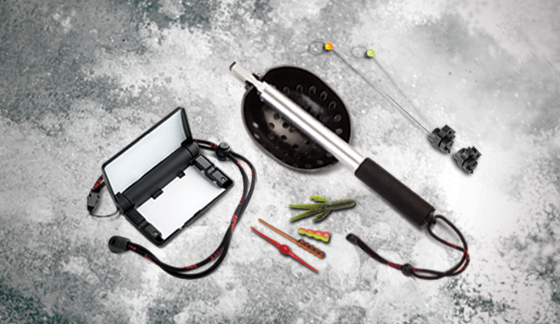 If Santa's workshop produced an ice-fishing rod rather than toys, what would it be called? … "The North Pole," of course!
If that answer seemed obvious, you're surely an ice angler. To be sure Santa knows ice-fishing gear brings you holiday cheer, check this list of perfect stocking stuffers.

Retractable Scoop
Don't believe an ice scoop will fit in a stocking? You probably don't believe in Santa or flying reindeer, either, do you, ya big Grinch! But yes, Virginia, there is such an ice scoop.
Designed to remove the maximum amount of slush from your holes with ease, the handle of Rapala®'s new Retractable Scoop extends from 15 to 34 inches. Extremely lightweight for a fold-in model, this is the scoop of choice for ice trollers who stay on the move. It comes with an adjustable wrist lanyard.
Charge 'N Glow Rod Mount
It might not light the way for Santa's sleigh on a foggy Christmas Eve, but Rapala's new Charge-N-Glow Rod Mount will give your glow baits a maximum charge, thanks to powerful ultraviolet L.E.D.s that create peak brightness.
A big idea in a small package, the Charge 'N Glow Mount attaches directly to your rod handle for quick and convenient charging of glow baits. Its compact design allows you to fish like it's not even there.
Titanium Spring Bobber
You'll know if the fish are being bad or good — i.e. biting or not — with Rapala's new Titanium Spring Bobber affixed to your rod
An accessory designed to add unmatchable sensitivity to any ice rod, the Titanium Spring Bobber features a Snap-Back design that will not kink or break. It also boasts adjustable tension and a hi-vis indicator bead that telegraphs even the lightest of bites.
Trigger X® Panfish Plastics
If images of jumbo perch, not sugar plums, dance in your head, ask St. Nick this Christmas for fish candy — Trigger X plastics. They're available in three new styles this year: Wingding, Boot Tail Minnow and Curl Tail Minnow.
Featuring a solid-core Trigger X soft body, the Wingding features wing-like appendages that provide stability and a unique gliding action on the fall. Tentacles in the tail section pulse and swim for additional fish-enticing action.
Featuring a long, micro-thin mid section terminating in a signature boot-shaped tail paddle, the Boot Tail Minnow swims with a light and subtle vibrating action.The Curl Tail Minnow features a long, micro-thin curly tail, which swims with a light and subtle, twirling vibration
As do all Trigger X baits, the new offerings rely on the proven A.C.T. formula for success – Action, Color, and Taste. Those three elements consistently trigger fish to bite, both in open water and through the ice.
VMC® Pre-Rigged Jigs
While Santa's belt restrains a tubby belly, fish in the Ice Belt can't resist a tubby jig — VMC's new Tungsten Tubby Jig, to be exact. It's one of three new ice jigs that VMC released this season. The Flap Tail Jig and the Nymph Jig are the other two that come pre-rigged with Trigger X soft baits specially designed to make fish bite and hold on tight.
Perhaps the perfect panfish jig, VMC's Tungsten Tubby Jig boasts a super-fast drop speed, allowing ice anglers to deliver their favorite Trigger X soft baits to the strike zone faster. Tungsten Tubby Jigs are available in three sizes, two per pack: 1/64 oz. (size 14 hook); 1/32 oz. (size 12 hook); 1/16 oz. (size 10 hook).
The Flap Tail Jig is pre-rigged with a Trigger X Flap Tail Grub (also sold separately), which features a thin-profile, beaver-like tail that creates a flapping action similar to a leech. Split the tail to mimic the swimming action of a wounded minnow. The Flap Tail Jig weighs 1/50th of an ounce, features a size 8 hook, and comes two per pack in two natural color patterns and six Ultra Glow patterns.
When pre-rigged with a Trigger X Nymph soft bait, the VMC Nymph Jig resembles the small aquatic insects that fish feed on year-round. It weighs 1/50th of an ounce, features a size 8 hook, and comes two per pack in two natural color patterns and six Ultra Glow patterns.
All pre-rigged VMC jigs feature a Power Gap design and 90-degree hook eye. That design ensures an optimal horizontal position of the jig, allowing ice anglers to convert more hits into solid hooksets, and lose fewer fish at the hole.