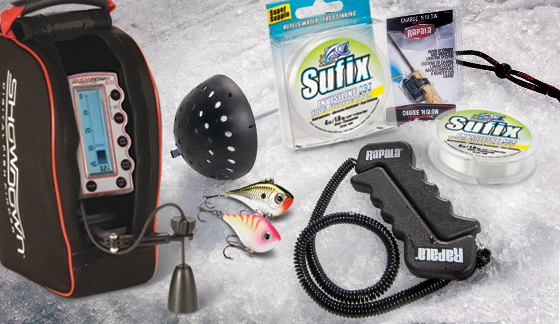 Before you hit the ice this season, be sure you're outfitted with the latest and greatest in baits, gear and accessories. Here's a list of the newest "must haves" for the hardwater season:
StrikeMaster® Lithium Lazer
Harnessing the most modern technology available, the new StrikeMaster® Lithium Lazer auger can cut an amazing 56 holes through 2 feet of ice on a single charge. Call it the Little Lithium Auger That Could.
"Other Lithium Ion augers boast 40 holes in 24 inches of ice," says StrikeMaster pro-staffer Tony Roach. "We can get 56 — sometimes more."
No half-pint show pony, the Lithium Lazer is a bonafide workhorse. "It's a true full-size drill, so you're not hunched over when you use it," Roach says. "No sore backs or extensions."
With a removable 50-volt Lithium Ion battery under the hood, the Lithium Lazer provides consistent speed and torque from hole to hole without reduced power or slow-down from waning battery.
Built on a proven StrikeMaster 25:1 transmission with heat-treated steel gears and polymer gear casting, the Lithium Lazer delivers maximum efficiency with a lighter weight than ever before. Fitted with twin 8-inch, Swedish-made Mora™ stainless steel Lazer blades, it weighs in at only 24 pounds.
The Lithium Lazer comes with a limited three-year warranty on its motor and a limited one-year warranty on its battery.
See the power of the Lithium Lazer in action against the competition.
MarCum® Showdown Troller 2.0 Combo
Universally appealing to both newcomers to the sport, and seasoned pros alike, the ShowDown Troller 2.0 Combo features automatic ranging and zoom. All of which means more time fishing and less time adjusting your sonar. Quickly move from hole to hole, and simply drop in the transducer to watch the ShowDown do the work for you as it automatically selects the correct range and zoom settings.
Understanding what the ShowDown is telling you is just as easy. Check out the display – vertical, just like the water column. Top is top, bottom is bottom, and every signal in between is nothing but your lure surrounded by fish. Brilliant! And since there are no moving parts, batteries last far longer, running as quietly as a yawning minnow.   100% automatic, 100% digital, like a tireless silent assassin. Top anglers like Tony Roach use ShowDown for a reason, they demand the best, and so should you.
Rapala® Ultra Light Rippin' Rap®
Anglers across the Ice Belt have long borrowed Rapala liplesss crankbaits from their open-water tackle boxes for use on the ice. Now they've got one custom-made for ice fishing — the Ultra Light Rippin' Rap.
Featuring flat, skinny sides and a deep-belly profile designed to dive and rip, the Ultra Light Rippin' Rap flutters on the drop with a hard-vibrating action accented by a loud, distinctive BB rattle system. Textured scales and gills with deep-set 3D holographic eyes seal the deal.
Rapala developed the Ultra Light Rippin' Rap in response to the growing popularity of ice fishing with No. 5 size Rippin' Raps designed for open-water fishing. The Ultra Light is a No. 4 size.
"The No. 5 is an aggressive bait, and when the fish are aggressive, they have no problem committing to hit it," says fishing guide and ICE FORCE pro Brad Hawthorne. "But the No. 4 allows you to have another step in between a large, loud, aggressive presentation and a smaller, equally aggressive, but just a bit quieter, presentation. So it fills that gap between a No. 5 Rippin' Rap and a spoon."
A great multi-species bait, the Ultra Light Rippin' Rap measures 1-1/2 inches, weighs 3/16 oz. and comes with No. 10 and 12 fast-piercing VMC black-nickel, round-bend hooks.
Sufix® Invisiline Fluorocarbon ICE
Unlike traditional fluorocarbon lines called to service in winters past, Sufix Invisiline Fluoro ICE spools off spinning reels with ease, while still offering superior sensitivity, strength and handling and abrasion resistance. Hydrophobic, it repels water, minimizing line freeze.
"Fluorocarbon has come such a long ways in the last five to 10 years, especially for applications on the ice," Neustrom says. "With Sufix Invisiline Fluoro ICE, fishability and manageability on the spool is so much better then we've ever had before."
Designed with a low-stretch index for optimal hook-setting power, Sufix Invisiline Fluoro ICE sinks four times faster than monofilament line, getting your bait to the strike zone faster when it counts. All that, and it's practically invisible in the water – just the ticket when fishing for spooky walleye or panfish.
"You're able to get your lure back down faster to biting fish, which is so key on the ice," Neustrom says. "Especially if you're in deep water, to keep continuing that bite."
Sold in 50-yard spools, Sufix Invisiline Fluoro ICE comes in 2 lb. to 7 lb. test in the only color you need, the practically invisible Crystal Clear.
Rapala® Mega Scoop
A large, fold-in model, Rapala's new Mega Scoop removes the maximum amount of slush with a minimum amount of effort. At 34 inches, it's just the right length so you can scoop a hole without bending over.
Additional features include a 30-inch fish-measuring ruler on the handle and an adjustable wrist lanyard.
Rapala® Ice Safety Spikes
Before stepping foot on the ice this season, be sure to pick up a set of Rapala Ice Safety Spikes. Wear them around your neck to ensure they're easily accessible.
"This is your get-out-of-jail-free card, should you fall through the ice," explains ICE FORCE Pro-Staffer James Holst, host of In-Depth Outdoors on the Fox Sports North channel. "It's so hard to get out, but with these spikes, you can get good grip and good leverage and pull yourself free."
Contoured finger-grip handles, connected by a 22-inch extendable cord, provide a secure grip. Hardened steel spikes, which can penetrate the toughest of ice, stow conveniently inside the handles for safety when not in use.