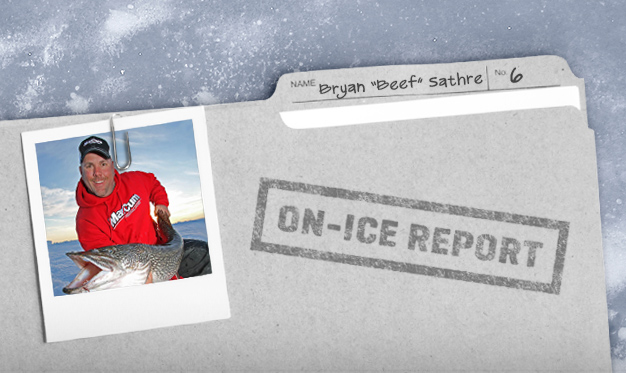 Been staring at your deadstick bait on your MarCum screen, watching negative walleye after walleye swim past it without even a second look? Bryan "Beef" Sathre of Fathead Guide Service has good news from the north country – we're about to cross the late-winter threshold, and that means more aggressive fish!
Beef is seeing a transitional pattern take affect, similar to what you see in late fall. Walleyes, crappies and bluegills are scattered across the depths, and Beef has been finding them in 6 to 35 feet of water.
"I'm looking for green weeds for a shallow bite, if you can find them this time of year, you will find fish," reports the ICE FORCE pro-staffer and professional guide.
Beef makes his living guiding in the Bemidji, Minn. area, and he's has found the most success on lakes Winnibigoshish, Bemidji, and Cass.
Electronics are paramount, and Beef uses both the camera and sonar features of his MarCum LX-9 [Product 'LX-9' not found!] to stay on fish this time of year. The unit doesn't leave his side as he scouts prime weed-bed spots for big fish. He'll drop his camera and look for pockets about 30 feet in diameter, and then it's fish on!
Fish of all walks of life will venture out into open patches to feed, and will stay in the area because of the shelter provided by the thick green weed beds.
"The walleyes aren't camera shy," Beef says. "I put my camera five to eight feet away from the hole and the walleyes kept bumping into the camera. And don't get me started about bullheads – they are camera hounds!"
Flats = perch porches
The perch bite has been phenomenal on Winnie, Bemidji and Cass.
"Find the largest flats from 23-30 feet of water and set-up shop for a great day of jumbos," Beef says.
Rapala Jigging Raps [Product 'Jigging%20Rap' not found!] have been a staple for Beef, and he has a technique that drives them crazy. Perch are attracted to baits jigged hard on the bottom, creating large plumes of sediment.
"They love it, because it creates the illusion of a prey species stirring up the bottom," Beef explains. "First come the perch after the plume, and following the perch come the predators."
Quick-strike pike
Pike have been a great option for midday action. From 35 to two feet, they can be found everywhere. Transitions and weed edges are key areas to target for big pike.
Beef has been setting a tip-up five to six feet off of the bottom with a quick-strike rig, tipping the trebles with  seven- to nine-inch herrings or frozen smelt.
"The pike have been extremely aggressive, and it makes an entertaining day icing pike after pike," he says.
Walleye 1-2 punch
Walleyes have been active on flats and on most steep breaks. Some are still in a mid-winter mood and simply come up and "nose" the bait, while others lock on like a cruise missile, slamming the bait, Beef reports. An aggressive approach, such as a Jigging Rap [Product 'Jigging%20Rap' not found!], and a deadstick is the perfect 1-2 punch for triggering fish of all moods.
Go muddin'
The coming month will bring many changes, Beef predicts.
"Start looking shallower, reversing your tactics and finding mud," he says. "The muddy areas are going to absorb the most heat, drawing in fish from all areas. The sun becomes warmer and the fish will prepare to move into shallower water in search of new forage."
If you're looking for a knock-out punch for a trip up north, Beef suggests fishing Winnie, or Cass.
"The jumbo perch are starting to get very aggressive, and you will have the chance to tangle with some monster pike," he says. "The ice season is again on the incline, and there is no better time to get out and stretch a string!"