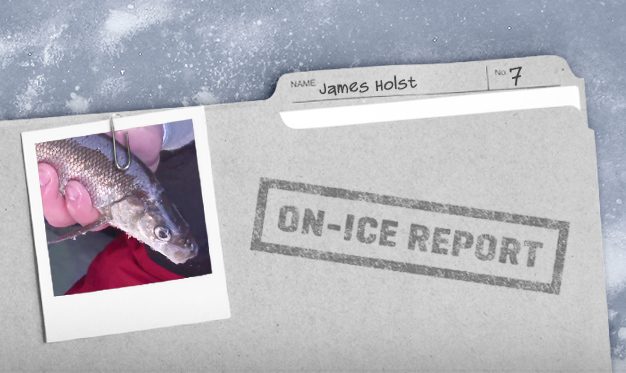 In late January many ice anglers find themselves in a self-imposed time-out, due to a mix of mid-winter blues and cold fronts that plunge temps well below zero. But as host of a fishing TV show, James Holst can't take a time out. He's got to find biting fish no matter how cold it is or how finicky the fish get.
"The bite on some species like walleye definitely has slowed down on most bodies of water," reports Holst, an ICE FORCE pro-staffer and host of In-Depth Outdoors TV. "Fish can and will be caught this time of year, but the work-per-fish-caught ratio starts to look a little lean."
The good news, Holst says, is that the cold temps have finally iced over some large bodies of water that are slow to lock up. Green Bay is one example. Holst and his crew filmed a show there in late January.
"These newly accessible lakes have received most of my attention in the last week or two and we've been targeting new species – at least to me – that don't seem to give two tail shakes about deep-freeze cold fronts or that other species have gone into a mid-winter slumber of sorts," Holst says.
One such species is whitefish, which is fast becoming a popular winter quarry amongst Door County anglers.
"I'm a little late to the party when it comes to targeting whitefish, given the exploding popularity of this tasty and highly abundant species," Holst says. "I'd seen photos, I'd watched videos and I'd accidentally caught a few here or there, but I'd never targeted them before. That was something I wanted to change."
What drew Holst's attention to the lightly pressured whitefish is the fast-paced action they offer mid-winter anglers, and the fact that he knew they are delicious table fare (based on those few accidental catches of them elsewhere).
"Combine that with outrageously clear water which Green Bay is known for up near Door County and you can have a blast catching big numbers of whitefish, essentially sight fishing them with the underwater cameras built into your MarCum LX-9 [Product 'LX-9' not found!]," he says.
The area Holst targeted on Green Bay is about 15 miles north of Sturgeon Bay. He fished with Paul Delaney of Late Eyes Sportfishing Guide Service.
"We're hearing of a good bite on the whitefish down in Sturgeon Bay as well, so take your pick when it comes to areas over there," Holst says.
Whitefish have been coming off shoreline breaks in 38 to 45 feet of water. Find rock-to-sand transitions at these depths and you're likely to find a school of whitefish.
"And when you find them, you're likely to find them in good numbers," Holst says. "Rarely have I ever seen a lone whitefish." Far more common are packs of three to six fish with and occasional raiding party comprising eight to 12 fish.
See fish, catch fish
Identifying areas holding whitefish is incredibly easy with the aid of an underwater camera, Holst notes, due to the unbelievable water clarity in the Door County region.
"You could see your spoon dancing with every movement of the rod tip in 42 feet of water, so finding the hard bottom-to-sand transitions was as easy as dropping down a camera and turning it on to survey the surroundings," Holst says.
Watch a brief video clip of footage Holst shot with his MarCum LX-9's camera and recorded to the unit's internal DVR function:

"You'll see in the video that the clarity of the water is about as good as it gets and you can see why using the underwater camera on the LX-9 worked so well," Holst says. "When you can see for 50 feet in any direction, there's no way for these fish to go undetected."
Monitoring whitefish with the LX-9 [Product 'LX-9' not found!]'s camera helped Holst determine what jigging tactics and strokes they would respond to.
"These whitefish can be as picky and finicky as any fish I've ever tried to put on the ice," he says. "Seeing how each fish responds to your presentation definitely improves your catch rate."
Holst's prime bite windows ran from 8 to 10:30 a.m. and from 2:30 to 5 p.m.
"You'll still catch fish during the middle of the day, but you'll notice the schools of fish get a little smaller and the fish that do come in to investigate baits are less aggressive than you'll find them early and late in the day," he says. "If you stick to it, you'll catch more than enough mid-day fish to justify staying on them all day. And the flurry of action you'll see mornings and afternoons, when the larger schools of aggressive fish roll through, will keep you want more!"
Rigging for whitefish
Holst's most productive presentation was to tie a heavy gold spoon to the end of his line and then position a small jig-and-plastic combo or fly on the line about eight to 10 inches above the spoon.
"The spoon provided the weight needed to get the small jig or fly to the bottom and served double duty as an attractor," Holst explains. "One of the best ways to get a school of whitefish to eat the jig or fly was to pound the spoon into the sand on the bottom and stir up a dust cloud. Almost invariably, the whitefish would come over to investigate.
"If they were aggressive, the larger whitefish in the school would often hit the spoon. But if the fish were a little 'off,' then that small jig, held on the line by a small swivel, was an irresistible morsel that put the majority of our fish on the ice."
Holst encourages ice anglers to give whitefish a try this winter. "They offer fast paced action, are scrappy fighters and make for excellent table fare."
If you enjoy targeting fish with an underwater camera, "there might be no better opportunity than to target whitefish out on Green Bay," Holst says.
If you're interested in additional details on how to target whitefish successfully, watch the In-Depth Outdoors TV episode filmed on Green Bay here: