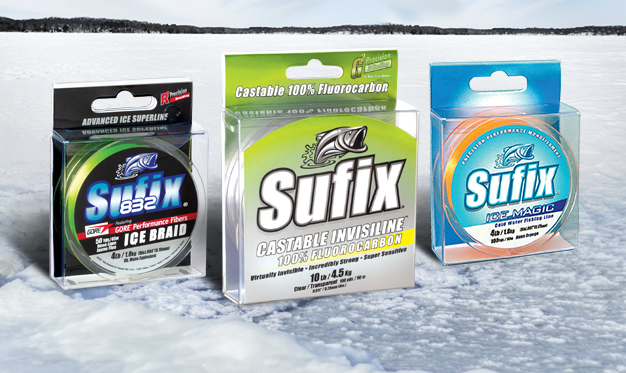 Want to catch more fish and change line less often? Spool your reels with Sufix ice line.
No matter which species you favor or how shallow or deep you fish for 'em, there's a Sufix mono, braid or fluoro line perfect for your hardwater adventures.
From bull bluegills to slab crappies, from jumbo perch to wall-hanger walleyes,Sufix Ice Magic [Product 'Ice%20Magic' not found!] monofilament is your ticket to success. Faster-sinking and more supple than traditional mono, it allows for a more natural bait presentation.
When putting clients on Upper Red Lake, Minnesota, walleyes, Sufix Ice Magic monofilament in 6- and 8-pound test "are about all I need," says ICE FORCE pro and full-time fishing guide Brad Hawthorne.
"It's the only mono that I can keep on the spools all season long," he says. "Every other mono I've used gains memory after it sits outside. Sufix stays supple, it stays on the spool when you want it on the spool and it comes off the spool when you want it to come off. And it doesn't get that sticky characteristic or that chalkiness to it."
And it's thinner than most other monos as well. "And that helps a lot, as far as visibility goes," Hawthorne says.
Made with special additives to deter water absorption, Sufix Ice Magic resists ice build -up on your line, guides and spool. At any time, in any temperature, you can count on Sufix Ice Magic to stay soft, flexible and strong.
That makes Ice Magic the panfish line of choice for several ICE FORCE pros that share their tips and tactics on the In-Depth Outdoors TV show on the Fox Sports North channel.
"Both the 2- and 3-pound-test Ice Magic lines have minimal stretch and disappear in even the clearest water," says ICE FORCE pro Dave Koonce. He laces up his noodle rods with 2-pound test and spools 3-pound-test on his long rods.
ICE FORCE pro and NAIFC tournament angler Brent Yeakey laces up 2-pound test Sufix Ice Magic when chasing both bluegills and crappie. "I'm very impressed with its lack of stretch and abrasion resistance," he says.
Full-time Door County, Wisconsin, fishing guide and ICE FORCE pro Paul Delaney rigs most of his jigging rods with Ice Magic –2-pound-test for bluegills and perch, 4- and 6-pound test for walleyes. "Not only does it not absorb water and freeze up like lines, but it's also more abrasion resistant and doesn't tend to coil off your reels," he says.
Sufix Ice Magic comes in clear and neon orange on 100 -yard spools, in 1, 2, 3, 4, 6, and 8 -pound test.
832 Advanced Ice Braid
As open-water anglers know, braided line offers a non-stretch, abrasion-resistant advantage. Ice anglers enjoy the same benefits with Sufix 832 Advanced Ice Braid [Product '832%20Advanced%20Ice%20Braid' not found!].
"I like Sufix 832 Ice Braid for deep-water walleyes, because it gives me a little bit more feel," says ICE FORCE pro and Freshwater Fishing Hall of Fame guide Tom Neustrom.
Featuring a tight, 32-weave-per-inch composition that includes 7 Dyneema fibers and one GORE Performance Fiber, Sufix 832 Ice Braid is the thinnest, toughest, most sensitive fishing line on the ice. And it sheds water like duck feathers. "It repels water and ice, so your line doesn't freeze in your rod guides," Neustrom says.
It's also the fastest-sinking winter-fishing braid available. "It gets me down to the fish fast," Neustrom says.
When Hawthorne fishes from inside his Otter portable ice shelter, he reaches for his rods rigged with Sufix 832 Ice Braid.
"You don't get a block of ice in your spool with 832," he says. "When you're using Sufix Ice Braid, you're always able to use that rod. I've never had a line before that you can put it on and it just continues to work and work and work. And it doesn't get those characteristics of old line after a month or two of use – it's still like every spool just came out of the factory."
It's durable too.
"It tolerates conditions that other lines would fail in," Hawthorne says. "It shines when you need it to." One of his guide clients, for example, caught 38 fish on 6-pound braid. "That's dozens of pounds of walleye the guy pulled through the ice and that line is still perfect."
Hawthorne uses a No. 10 barrel swivel to connect his Ice Braid to an Ice Magic mono leader – 8-pound test for Rapala Rippin' Raps and VMC Rattle Spoons; 6-pound test for VMC Tumbler and Tingler spoons. The lighter mono gives the baits "a little more action," he says.
Anglers fishing Ice Braid for the first time will want to adjust their hookset, as braid requires less effort than mono to keep fish buttoned up. As soon as you begin applying pressure, the line transfers the force almost immediately to the hook.
"You don't need to 'set the hook,' per se, you can just start reeling on the fish," Neustrom says. "The biggest mistake people make with braid is they want to set the hook like they do with mono. … You'll pull a hook. You just need to reel down on the bite."
Ice Braid comes in 50-yard spools of 4-pound test in a 1-pound diameter, an in 6, 8, 10, 20 and 30-pound test in an 8-pound diameter). It's available in both Neon Lime and low-vis Ghost colors.
100% Fluorocarbon
When ICE FORCE pro Joel Nelson chases panfish, he spools his noodle rods with 3- and 4-pound Sufix Castable Invisiline 100% Fluorocarbon [Product 'Castable%20Invisiline%20100%20Fluorocarbon' not found!].
"It's a touch stiffer and works better for tying dropper rigs," he says.
Unlike traditional fluorocarbon, Sufix Castable Invisiline spools off spinning reels with ease. Designed with a low-stretch index for optimal hook-setting power, it sinks four times faster than traditional nylon lines – getting the presentation to the sweet spot faster for when it counts. All that, and its practically invisible in the water – just the ticket when fishing for spooky 'eyes or panfish.